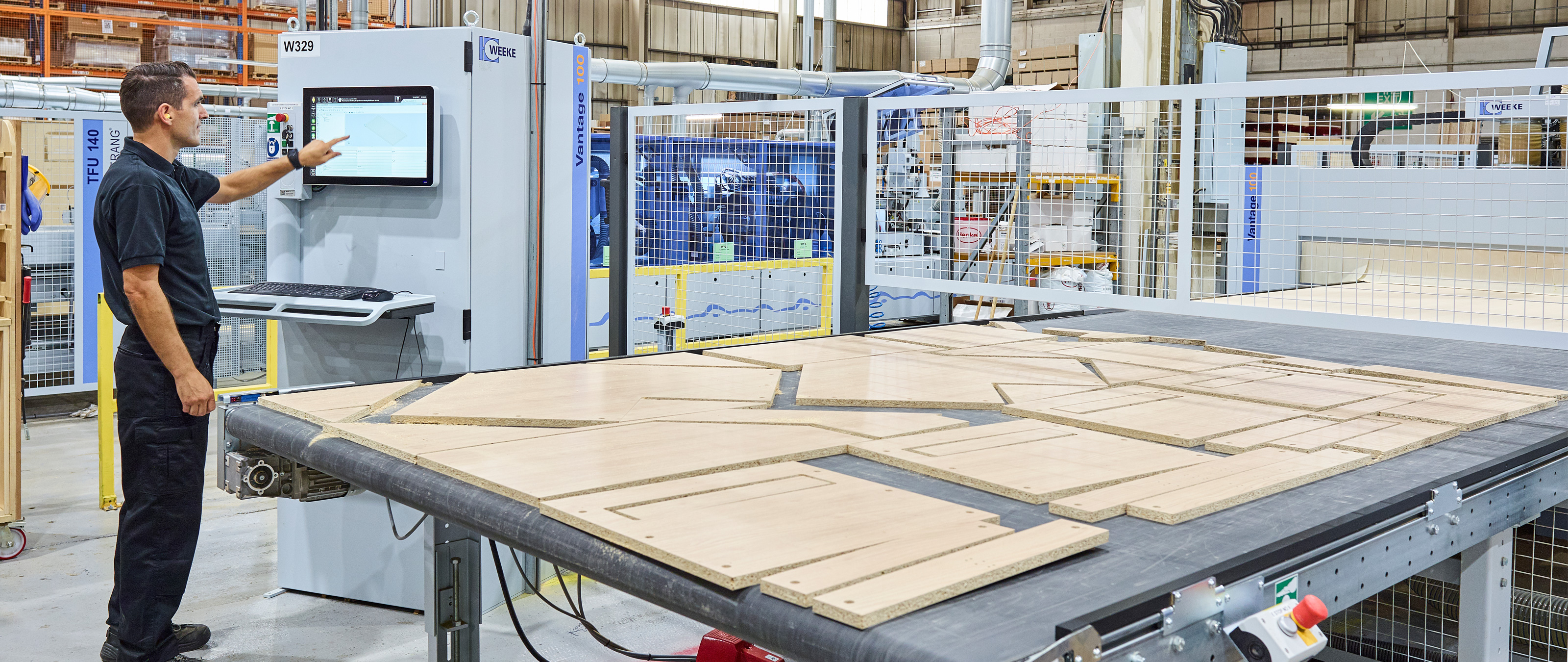 Hammonds Furniture trusts HOMAG for future proof machinery
Evolving production processes at Hammonds Furniture saw the introduction of a HOMAG Vantage 100 CNC and a fully efficient staggered edgebanding line.
"…HOMAG are very approachable and we are confident that if we have a production problem, they will have the innovative technology which will provide a solution. They really listen to our needs as a manufacturer and this is another reason why we choose to partner with them."

David Evans, Head of Manufacturing at Hammonds Furniture.
Founded in 1926, Leicestershire based Hammonds Furniture Limited is a family owned business producing fitted furniture. As it continues to grow, the company has expanded its offering to include unique solutions for bedrooms, kitchens and office furniture.
David Evans, Head of Manufacturing at Hammonds Furniture explains, "The business has grown phenomenally over the past 90 years and this year's turnover of £90 million reflects this. Whilst our staff numbers and operation sites have advanced with the company, our existing production processes needed a solution to make them both faster and more efficient."
Finding the right CNC nesting router solution
"In order to evolve our production processes, we felt it was time to replace our existing CNC router. Whilst it had served us well, it had become outdated; our goal was to combine our nesting and drilling processes into one machine to increase production accuracy and efficiency.
"We made sure we took the time to thoroughly research the market before we decided on any purchases. This included checking out all the leading woodworking machinery companies. There are some great brands on the market, however, we felt that some of the machines had quirks which we weren't so keen on.
"Part of our research process included the opportunity to see HOMAG's CNC routers in action at the HOMAG UK showroom and the Treff open day in Germany. We found this very beneficial as not only were we able to see HOMAG's routers operating in a live environment, but also we could speak to the operators and management about their capabilities. Seeing the HOMAG machinery in action sold it to us and we decided to invest in a HOMAG Vantage 100 CNC gantry processing centre."
The HOMAG Vantage 100 CNC – combined nesting and drilling for accuracy
"The main reason we were looking to replace our CNC router was that our current model had become dated with advances in technology. We previously used a separate machine for nesting whilst our old router finished and face routed parts. Not only did this take up unnecessary floor space, but it also doubled the production operation.
"Therefore, we decided to invest in a HOMAG Vantage 100 CNC nesting router with push-off device. The nesting router has a feed station that allows up to 25 sheets of MDF to automatically load, which saves time and reduces manual labour. The addition of the push-off device means completed panels are then automatically placed on to a conveyor and taken to the next processing station. As the machine is being unloaded it is already automatically preparing the next sheet.
"The HOMAG Vantage 100 CNC gives us the added bonus of having the nesting and drilling functions in one machine which has changed the way we manufacture our products.
"The Vantage 100 efficiently handles the production and routing of MDF fascias including drawer fronts and wardrobe doors. We are also able to use it for up to 25mm routing for chest tops. An additional reason we bought the machine was for the nesting of carcasses to increase the accuracy and consistency of our kitchen units."
Staggered edge banding line halves production times
"In order to handle our increasing workload, HOMAG's specialists also recommended that we invest in a staggered edge bander line. This includes a HOMAG KAR 370 right handed machine which feeds directly into an HOMAG KAL 370 left handed machine, both with EVA glue.
"The new edge bander line has not only taken the pressure off our existing HOMAG double sided edge bander but also halved manufacturing times. Even though our old edgebander has a return device to reduce labour it could only produce one edge at a time. An operator would then need to remove the piece from the edge bander so it could edge the other side. When we are producing 5,500-6,000 passes a day, this is an extremely slow process. Having a line with two edge banders means both sides of the work piece are edged during the same working pass.
"Previously we would have our edge bander running up to 16 hours per day. Now we only need to run the new staggered edge bander line for 6 hours per day. This has not only significantly reduced production times but consequently saved greatly on costs.
"The staggered line also provides a lot of versatility with edging as it gives us the ability to quickly select different tapes from one end to the other and produce more panels than before. Each edge bander has room to hold six tapes. Whilst we don't necessarily use six different edgings, it allows us to pre-load the six-slot magazine stations. We can then just let the edge banders run with minimal manual interference.
"Another factor which really sold the staggered edge bander line to us was its impressive safety features. It has guarding down the whole length of the line which means the only exposure points to the employees are at the very start, when you're feeding the panel in, and at the very end when it comes off the staggered line. The health and safety of our employees is paramount at Hammonds and the safety features of the staggered edge bander line significantly reduce the chance of any accidents happening in the workplace."
Efficient production with HOMAG's training and ServiceBoard App
"HOMAG trained our operators to use both the staggered edge banding line and the Vantage 100 CNC on site. Furthermore, two of our production engineers were trained at HOMAG UK on the software. The Vantage 100 uses HOMAG's woodWOP 7 software with their specific nesting software; together, they make the operation of the machine simple. As all our HOMAG machinery uses the common powerTouch interface, our operators were able to master the running of the new machines very quickly.
"Additionally, we invested in HOMAG's ServiceBoard app which runs on a tablet remote from the machine. It gathers live data from our machines such as how many panels have been processed, runtime and downtime so that we can view our production processes at a glance. The app is also able to quickly identify any possible issues and order any spare parts using HOMAG's unique 'eParts' online parts catalogue. This minimises any potential downtime and we have found it an extremely beneficial tool to have in our facility."
HOMAG - a trusted supplier for over 15 years
"We pride ourselves on our customer service and naturally we choose to work with suppliers who uphold the same professional views. Although we have several brands of woodworking machinery in our facility, we have had a long term relationship with HOMAG for over 15 years now.
"In order to ensure you can maintain machines and keep them working to the standard required, the manufacturer's service levels need to be extremely high. We've always found HOMAG uphold high service levels with fast response times and knowing this was an additional factor in the purchasing decision.
"Furthermore, HOMAG are very approachable and we are confident that if we have a production problem, they will have the innovative technology which will provide a solution. They really listen to our needs as a manufacturer and this is another reason why we choose to partner with them.
"The machines are performing exactly to the high standards we would expect from HOMAG. They have improved the efficiency, quality and consistency of our production and have delivered significant cost savings.
"One of the key goals of investing in HOMAG machinery was to ensure our future production would be efficient. It was not all about the particular machine we were buying at the time, it was about how that machine would continue to work and operate in the next 5-10 years and we are more than confident that our new HOMAG equipment will deliver," concludes David Evans.
If you would like more information or a demonstration of any HOMAG machinery or software please contact HOMAG UK on 01332 856424.
Back to List