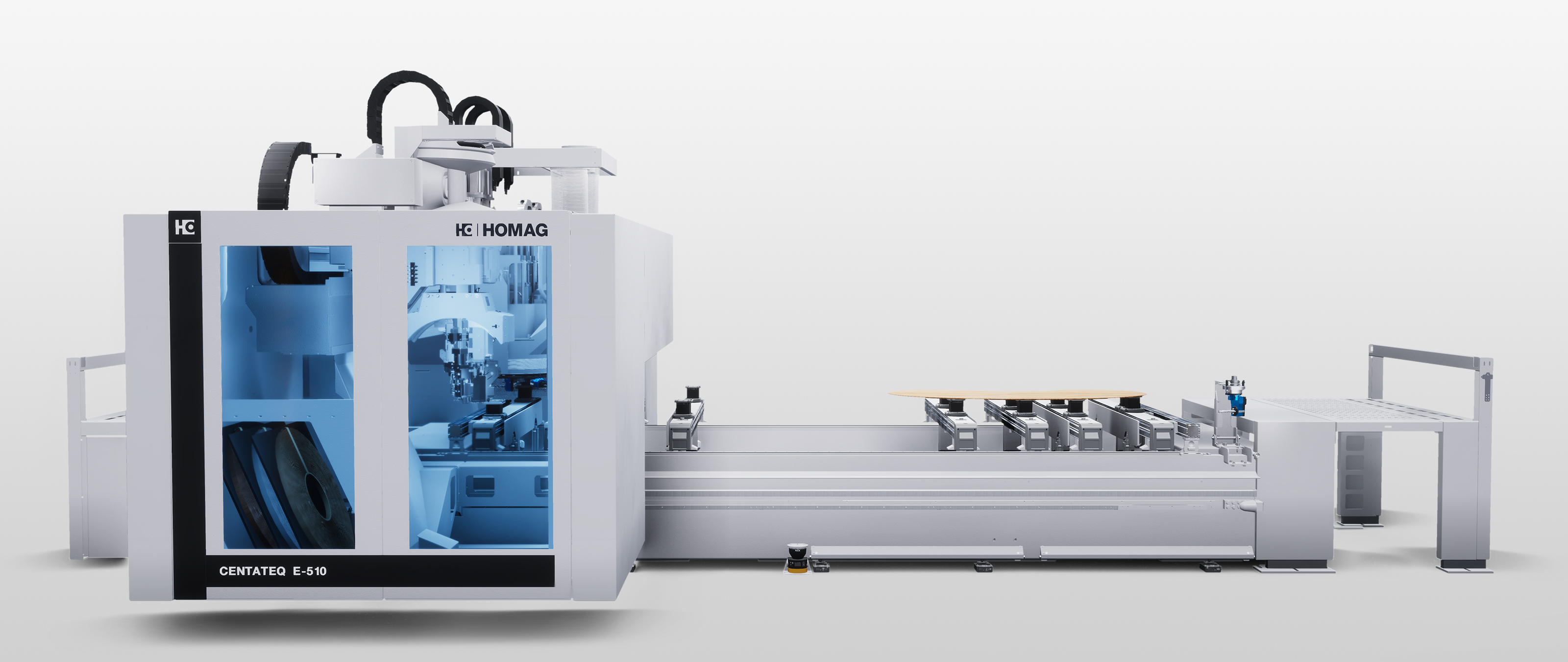 Forza Doors underpins its rapid growth with HOMAG machinery
At least 80% of Forza Doors machinery comes from the HOMAG Group. Their machine collection operates across 40,000 sq ft of production space.
"From day one, we have invested in HOMAG machines because the Germans give you exactly what you specify, unlike the sometimes wing and a prayer approach of other manufacturers. With HOMAG, there is an unparalleled level of build quality and robustness that you cannot get anywhere else."

Alan Brown, sales director at Forza Doors
Based in Horsham, West Sussex, Forza Doors was formed in 2010 by Nick Hare (managing director), Alan Brown (sales director) and Philip Duckworth (technical director). The trio had a very clear vision of what they wanted to create with the company. From day one, they laid out a set of principles that has helped guide the business from a standing start to a £14 million turnover in less than seven years, despite a recession.
Forza Doors specialises in the preparation of wood veneers and timber utilised in the production of doors, frames, panels and associated joinery for use in the commercial interior construction market; this encompasses office, education, health, hotel and retail.
The company is dedicated to providing its clients with a superior range of veneer or laminate doors and panels, as managing director Nick Hare explains: "Our mission has always been to deliver a first class service that can meet demanding project lead times. We recognise that site events can compress the completion schedule, therefore it is crucial that we are able to meet such fast track requirements.
"A key element of our service is the provision of totally bespoke handcrafted veneers with a 21st century CNC machined door or panel which guarantees consistent dimensional accuracy. This is fundamental in giving clients the confidence to specify and use Forza products within their projects."
HOMAG machinery helps deliver quality and consistency
Alan Brown, sales director at Forza Doors, underlines why the right machinery and software are so important: "When you're a young growing business, you have to be able to deliver consistently excellent products to tight deadlines. The commercial fitout market is very 'lastminute.com'. It is driven by a lack of detailed information which exerts more pressure on us, as the manufacturer, to meet the really challenging timeframes that are put in place by our clients. This is not going to change and so for us, a machine breakdown can be very disruptive.
"That is why we made the business decision to migrate to all HOMAG equipment .We're not quite there yet, but at least 80% of our machinery comes from the HOMAG Group. It includes a beam saw, edgebanders, sanders, CNC 5-axis routers and a roller coating line. To run these machines we use the market-leading woodWOP 7 software, as we believe it is the best solution in the market.
"From day one, we have invested in HOMAG machines because the Germans give you exactly what you specify, unlike the sometimes wing and a prayer approach of other manufacturers. With HOMAG, there is an unparalleled level of build quality and robustness that you cannot get anywhere else.
"Yes, they tend to be more expensive than some of the other options, but you're buying the best. So HOMAG not only gives you technically advanced solutions, but also complete peace of mind. This is further enhanced by the superb service backup which includes online support via the internet with Germany.
"This service is second to none and nine times out of ten we can solve any issues without the need to call out an engineer. On the odd occasion we do have a HOMAG engineer onsite, you know they will arrive promptly and get you up and running again as fast as possible. They are always very knowledgeable, friendly and helpful."
Operating across two sites
"The company's rapid expansion has thrown up some interesting challenges," claims Forza's technical director, Philip Duckworth. He continues, "We now have 120 staff operating across two sites, giving us around 40,000 sq ft of production space. Whilst these sites are close to each other, it is vital we have good communication between the two.
"All the new HOMAG machinery features the powerTouch control screen which is an excellent tool. Being a touch screen system, rather than a keyboard and mouse, it gives you fast and easy accessibility to diagnostics.
"The operators can receive emails from the office or each other on screen. If a guy in plant A has a problem on his machine he can email his colleague in plant B on a similar machine and sort the problem. Without this communication ability, he would have to walk over to the other factory to see the guy and discuss a way of solving the issue."
High-end commercial door market
"Our customers are in the high-end commercial door market where a suite of doors in an office is, to a certain extent, a piece of furniture. We don't stock anything in standard sizes, every order that goes through our production is bespoke and we handle a high volume of orders every day.
"Consequently, it is vital that our woodworking machinery can handle everything from batch one upwards. We have found that the HOMAG equipment is more than up to the job. The quality of finished work pieces is outstanding and all the machines consistently perform at an exceptional level.
"We specified our HOLZMA beam saw with an optimisation package so that for each piece cut it generates a series of labels for the manufacturing stations further down the production line. The saw is used to cut fire door cores 44mm to 69mm thick and for heavy, 45mm thick, MDF cutting which we double stack. This has doubled our throughput by cutting two for one.
"Previously, our timber partition system required the hardwood edges to be applied by hand and that was very time and labour intensive. To overcome this, we ordered a specially built edgebander from HOMAG which runs at 16 metres per minute and handles door edges as well. The machine copes with 10mm and 18mm hardwood lipping to a depth of 80mm and has revolutionised this area of our production process.
"The investment in a HOMAG 5-axis CNC machine was made to cut down on time spent on tool changes when milling doors for ironmongery. It used to take us at least 15 minutes to process a door; now it's down to six and a half minutes which is more than twice as quick as before and yet the accuracy has improved too."
A company you can trust
Managing director Nick Hare is very complimentary about the HOMAG UK team: "We've known Roger Wilks, one of HOMAG's area sales managers, for more than 25 years. He is very good; we trust him, he comes from a manufacturing background so he knows his onions when it comes to talking about machines.
"Roger never fails to impress us with his unbiased and honest approach. He tells it like it is, so you know he won't try and pull the wool over your eyes. In fact, that's a trait of all the team at HOMAG UK, they always look to give you the best solution for your business.
"The people at the top of the company, Paul Cooper and Simon Brooks, are always willing to spend time with us. When it comes to finance, they've helped us out with great deals from HOMAG Finance using Deutsche Leasing. The interest rate is amongst the best you can get in the country; I think that is because Deutsche appreciates the quality of the machines and that, consequently, they have high residual values.
"There is no doubt that HOMAG has been very supportive and helpful throughout our period of rapid growth and we really appreciate this caring attitude," concludes a buoyant Nick Hare.
If you would like more information or a demonstration of any of the HOMAG machinery or software, please contact Adele Hunt at HOMAG UK on 01332 856424
Back to List