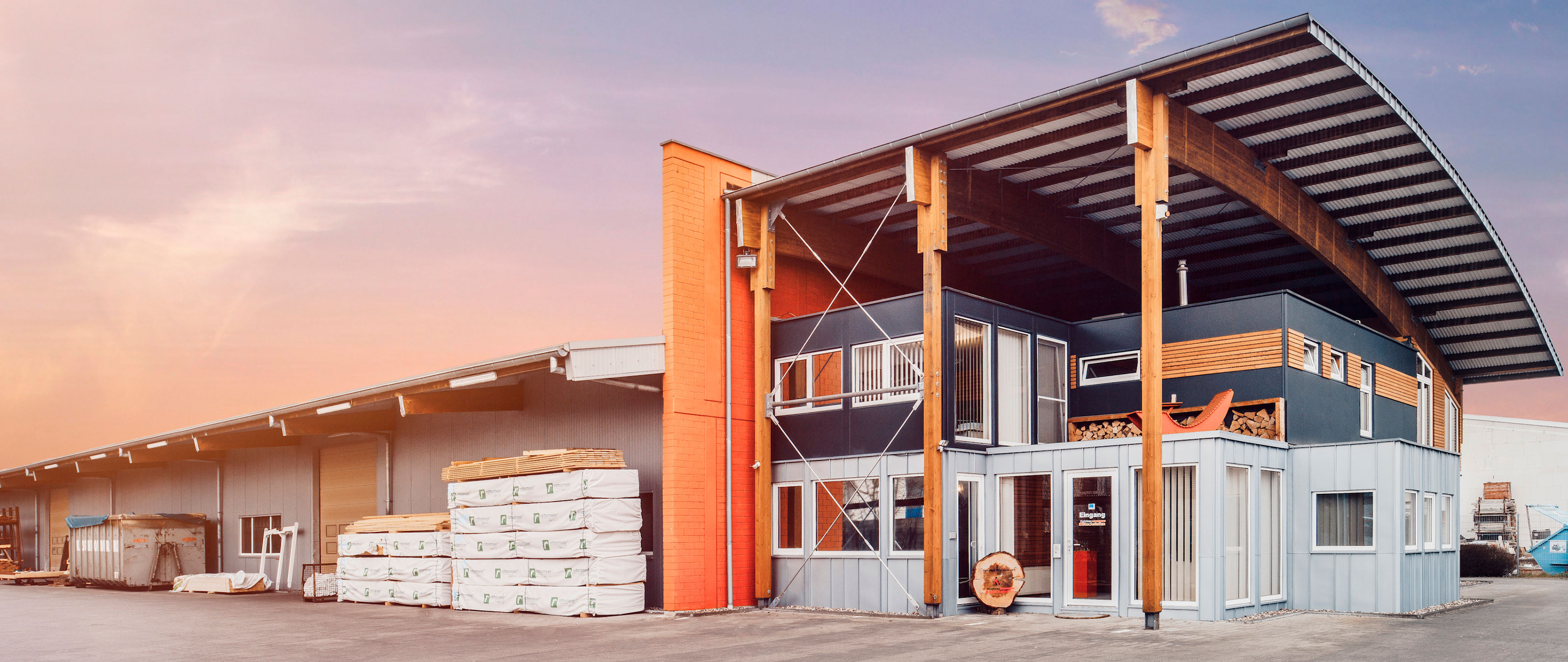 Familiar, but contemporary
"Small" automation solution for carpentry businesses.
"The machines shine with a professionalism that positively distinguishes us from our competitors. We have a unique selling point that impresses our developers."

Benjamin Stocksiefen, Managing Director, Holzbau Stocksiefen GmbH
An article from the trade magazine "Der Zimmermann", issue 1/2022. More information is available here.
Although they have been experiencing continuous growth in the construction of detached houses for years, Holzbau Stocksiefen GmbH were not concerned with increasing their capacity when they automated their element production. Rather, the focus was on better quality management and a unique selling point compared to its competitors. Family-run companies are one of the mainstays of artisanal timber construction, with advantages including a manageable size, a high degree of flexibility, a large amount of individual freedom in product design and direct contact between management and customer. There is also a close relationship of trust based on the good name of the family business in the region. With this structure, artisanal timber house construction sets itself apart from industry competitors, which has resulted in a steadily growing clientèle for three decades. The artisanal structure of the companies in question often includes clear limits on growth: the annual number of projects is frozen at a certain point in order to continue to allow close contact with the customer, in contrast to industrial production. Conversely, efficient industrial practices are increasingly open to such companies, which is why the demand for automated production lines has been growing in this area for several years. However, interests here are also different from those in the industry: for many smaller companies, automation is less about increasing capacity and more about finding solutions for the shortage of personnel, better quality management or the creation of ergonomic workspaces.
Focus on quality
Benjamin Stocksiefen has set the limit for his company at 20 houses or additional stories per year: "At the moment, I've made this decision to keep contact with our customers familiar and personal. The low quantity also works well with our manageable team, which means that we can execute our projects smoothly one after the other." In 2007, after his final school exams, the master carpenter began his training at Holzbau Stocksiefen GmbH in Niederkassel, the company he has been managing together with his father, Heiner Stocksiefen, since 2017. Founded in 1945 as a carpentry firm by his great-grandfather Michael Stocksiefen, the company entered the timber house construction sector in 2005. Since then, they have recorded a steady growth in this area, with up to around 20 projects per year and the company in Niederkassel taking on carpentry projects such as roof trusses and carports, alongside residential buildings, extensions and additional stories. The company do this with a staff of 12, five of whom are employed in the office, five on the construction site and two in production. Up until 2019, the work was done manually. At that point, the two managing directors initially decided to invest in a beam processing machine, with the following result: "After commissioning the beam processing machine, we quickly realized that the automation allows us to produce a higher quality," recalls Benjamin Stocksiefen: "Nevertheless, for element production, we continued our investment in two carpentry tables from WEINMANN for the moment, which did not put a heavy burden on our budget thanks to the high amount of self-assembly." This was to change as early as 2020. At that time, the carpentry firm once again contacted Tobias Klein, a field staff employee at WEINMANN, in order to take advantage of the quality benefits from automated production in the field of element production. As a result, Heiner and Benjamin Stocksiefen visited the WEINMANN site in Lonsingen and checked out plants that were already installed for other customers. "We were quickly impressed," says Benjamin Stocksiefen: "This kind of automated element production is a big investment, but it brings us higher quality and more stability in return, which saves us time-consuming rework on the construction site and therefore unnecessary additional costs. From today's point of view, as a result, I wouldn't want to be without it, even with the size of our business."
Custom-made production line
Considering a quantity of 20 houses per year, Benjamin and Heiner Stocksiefen opted for the WALLTEQ M-120 multifunction bridge from WEINMANN: a multifunction bridge that, alongside low investment costs and low space requirements, enables the fully automated production of wall, roof and ceiling elements in batch size 1 and could be easily combined with the existing carpentry tables. According to WEINMANN, an investment in the multifunction bridge pays off a quantity of five houses per year—a factor that was very interesting for the carpentry firm, which was looking at modernization not to increase capacity, but rather to optimize quality management. In addition to the standard trimming unit and the two chucks for stapling or nailing devices, the company in Niederkassel also ordered the piggyback dust extraction system, which is offered as optional equipment. The elements are still turned by an overhead crane, and the insulation is introduced into the elements with a manual blow-in plate from Isocell.
Smooth changeover
The fact that Stocksiefen had exclusively contacted WEINMANN as the market leader in the search for the new production solution proved to be the right decision from the consultation. "Our hall is rather narrow and low, so it was not very easy to integrate the new technology. However, with the support of the WEINMANN consultant responsible, Tobias Klein, this worked very well. We also felt very well advised in terms of material logistics and workflow." The start of production was largely smooth after this thorough preparatory work and a COVID-compliant indoor training session by WEINMANN employees. Any initial teething problems were typically due to macros from the work preparation. In Niederkassel, these were purchased from an external service provider, and therefore the company only had to deal with this topic indirectly: "We just gave feedback whenever there was a breakdown, and the error was corrected immediately. Smooth operation was therefore quickly achieved — production continued almost seamlessly."
Productivity doubled
Since commissioning, the production line still continues to offer the potential for further growth, which is currently evident from the increased productivity: "While we used to produce around 25 m2 of elements each day, today we are producing almost 50 m2," explains Benjamin Stocksiefen. "So, we have almost doubled our capacity. This already gives us the opportunity to react quickly and scale upward; for example, if an order has to occasionally be fitted in between jobs. Depending on the development of the company over the next few years, I could also imagine an annual quantity of 30-40 or more. Here, the new technology offers us the option for future growth, but that is not a goal that we are considering today." The question remains: what does the company do with the time they have gained? Benjamin Stocksiefen has a conclusive answer to this too: "We don't just build houses and additional stories. If we increase productivity in this area and freeze the quantities, we have more staff hours for other activities, such as the assembly of roof trusses and carports, or the production of components for other carpentry businesses." This means that the automation increases turnover without increasing the quantity of houses. The employees at Holzbau Stocksiefen are also very flexible outside company premises: for example, preparing construction sites, supplying them with material or finishing wood before assembly. The two employees from the production department also help out on the construction site when needed. Thanks to the automation, the company in Niederkassel have more freedom: "Because the machines don't run at maximum throughput here, it's not a problem if one employee from the production department operates beam processing or element production in parallel, while the other employee works on the construction site for a day." This is why the company have the added advantage from its investment that it can now use its production employees more efficiently and flexibly, while still maintaining the same overall number of employees. The production employees, moreover, are fully behind the automation, because it is driving the company forward and, ultimately, making their workplaces more ergonomic. "They no longer have to slide around on their knees and apply staples while bent over," explains Benjamin Stocksiefen, "and now they have the opportunity to work on the computer, which is very popular among our young team. In the current tense situation on the labor market, automation therefore also contributes to employee retention."
Building a house as an experience
Moreover, the new technology is a powerful marketing tool: "When developers come to consult with us, the atmosphere is very relaxed and familiar. In the end, of course, we also go into the hall together." And this is where the equipment makes the decisive difference: "The machines shine with a professionalism that positively distinguishes us from our competitors. We have a unique selling point that impresses our developers. If they turn up with a thermos jug and sandwiches to get involved in the production of their own house—perhaps if they paint the wood for the facade themselves and bring along friends or relatives—then this becomes a family event that deepens the bond with their house. And last but not least, it is one of the factors that makes house building with Holzbau Stocksiefen GmbH a thrilling experience."
Text: Dr. Joachim Mohr
Back to List
Holzbau Stocksiefen GmbH
Holzbau Stocksiefen GmbH was founded in 1945 by Michael Stocksiefen as a carpentry business. In 2005, the company entered the field of timber construction, and since 2017 Benjamin Stocksiefen has been managing director together with his father, Heiner Stocksiefen. With a total of 12 employees, in addition to constructing residential buildings, extensions and additional stories, the company also take on carpentry projects such as roof trusses and carports..
More information is available here.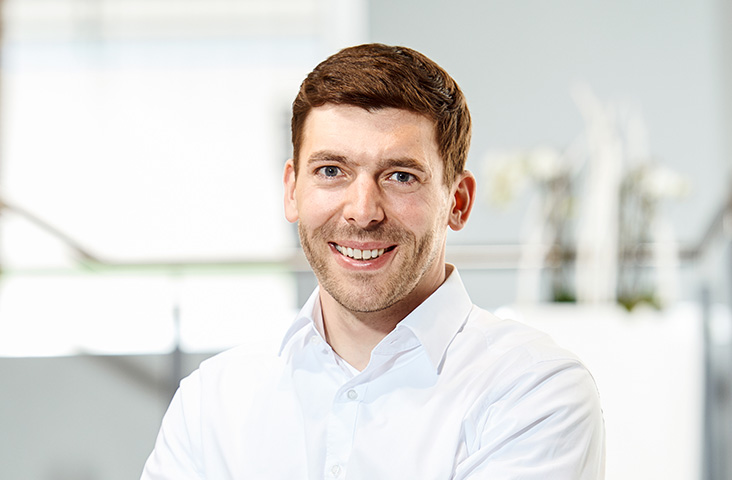 That's how your colleagues produce