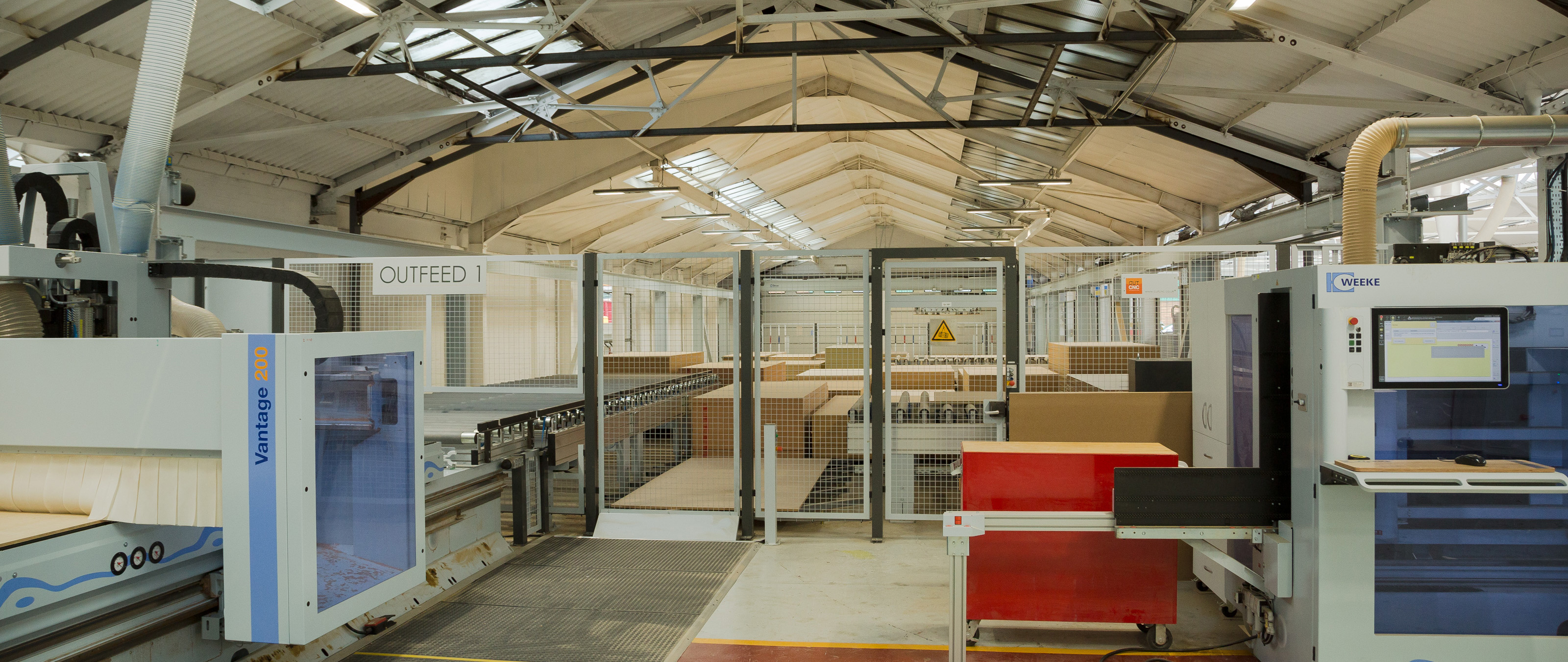 AR18 doubles production, improves quality & reduces waste
AR 18 Limited has been in the CNC routing trade for around 15 years, producing high quality retail furniture and display stands, reception desks, feature walls and cladding panels for shop fitters. It also provides a full service offering to small joinery companies and sign makers without in-house CNC facilities.
"HOMAG came out on top in terms of cost, reliability, service, support, build and finish quality..."

Antony Cockerell, Managing Director, AR 18
"Over the years, we've amassed considerable experience in CNC machinery," explains Antony Cockerell, managing director of Uxbridge based AR 18. He continues, "With the business expanding rapidly, we realised it was time to invest in new equipment that would drive our business to the next level.
"Obviously, as global market leader, the HOMAG name was known to us and so we short-listed them alongside a couple of other well-known brands as we began our search for equipment ideal for multiple shift production. It didn't take us long to narrow down our search to just two companies, one of which was HOMAG.
"To be honest, there wasn't a huge difference between the qualities of the machinery on offer. After visiting shows and seeing machine demonstrations, however, we made our decision. HOMAG came out on top in terms of cost, reliability, service, support, build and finish quality, but in the end it was my gut-feel that swung the day."
HOMAG UK – Trust, knowledge, patience and understanding
"The refreshing quality about HOMAG UK is that all the people there seem knowledgeable and willing to help. The HOMAG manager for our area, Roger Wilks, is a case in point; he has been a real champion for us. From the word go, he clearly wanted to find out exactly what we were looking to achieve so he could help us configure the best solutions.
"He was very patient with us as we reconfigured our needs several times before settling on the ideal solution. The space available was quite awkward; we had a lot of height restrictions and building infrastructure to contend with. Roger, however, remained calm and relaxed throughout. He kept us up to date with how the changes would affect lead-times in the build-up of the machines whilst ensuring we still hit our target date for production.
"Throughout the sales process, I never felt pressure from HOMAG to 'sign on the bottom line.' This was markedly different from the approach of the other potential supplier who was 'hard sell' from the word go. Their priority seemed to be on getting my signature on the contract, rather than developing the right solution for our business.
"Both in Germany and in the UK, HOMAG handled the sale and installation process superbly; it all went to plan and was completely drama free. From my perspective, it couldn't have gone any better. They dealt with all the other trades including Indusvent who did an excellent job on the dust extraction."
Investing in a quality edgebander delivering invisible joints
At the end of 2015, AR 18 invested in four machines from HOMAG UK – a BRANDT Ambition 1440 airTec edgebander, a WEEKE BHX 055 vertical drilling and routing machine, a WEEKE Vantage 200 CNC processor and a storage system from HOMAG Automation, the TLF 411.Antony Cockerell again, "Prior to our deal with HOMAG, we didn't have any edgebanding facilities in-house. Our business was a relatively low production run environment, manufacturing a lot of one-off high-end production pieces, so we'd always found it beneficial to hand-finish or sub-contract the edgebanding work."With the business growing, however, we had started looking at some higher volume jobs where it would be expedient for us to have our own edgebander. One of the advantages of the BRANDTAmbition 1440 that we particularly liked, was the airTec system for invisible joints. That gave us the ability, even on high volume jobs, to get the quality of finish we were looking for, especially with white finishes."
WEEKE machines save time and improve quality
"Another issue we needed to address with our old machinery set up was the ability to do edge drilling. We didn't want to tie up the new WEEKE Vantage 200 CNC processing centre with basic edge drilling tasks, so we decided to handle the edge drilling as a secondary process. It was this function that attracted us to the extremely good value for money WEEKE BHX 055."The other benefits of the BHX 055 are that it takes up very little floor space and is a great back up machine to our other routers. If the routers are all busy or have maintenance issues, the BHX is able to handle 90% of their work. Not only is it is a very reliable machine, but also the quality of the drilling and routing is first class, making it the ideal complementary machine."As part of our expansion plans for the business we linked up with Brunel University to carry out some time and motion studies on our existing processes. Results showed that one of the slowest areas in our work flow was the manual loading and unloading of the routers. With this in mind, we wanted to invest in a new CNC that could alleviate this issue."This objective led us to the WEEKE Vantage 200 CNC processing centre. The beauty of the Vantage 200 is it has selfloading and off-loading options. I'd seen a couple of other machines do self-loading and unloading very badly, but the WEEKE Vantage 200 was the first machine that I'd witnessed that looked like it would consistently work properly."I was very impressed with it and I am happy to say that, on the loading and unloading side alone, we have doubled throughput. What's more, the Vantage 200 has enabled us to replace two of our existing routers with just the one machine."
Automatic stock control and handling – the unsung hero
"The last, but by no means least, addition to our plant was the HOMAG Automation TLF 411 stock control and handling system. This is just an incredible piece of equipment."As someone interested in manufacturing and processes, when I first saw it, I was amazed.The TLF 411 quietly works away in the background like an unsung hero. It organises all the board stock and mitigates issues that can become problems down the production stream, such as marked or damaged boards. The love and care of the boards is now entrusted to the machine rather than having to rely on a forklift truck operator or an employee dragging the boards across the factory floor."We now QC (quality control) the raw boards as they arrive in from the supplier; from that point on, I know everything about each board we have in stock. I know where it is stored, I know when it came in, what size it is and what colour it is, so in terms of knowing what's what, I have all that information on hand."When I first saw it, I said to my management team that if we don't invest in this technology, in five years we're going to be struggling to keep up with the competition. Since its introduction into our production facility I can safely say that the TLF 411 stock control and handling system has transformed our business."
Ease of operation with fingertip controls in a calm working environment
"Another big advantage is the ease of operation of the HOMAG Group machinery. All the models we have added to our plant use the HOMAG PowerTouch screen, making it very easy for the operators to switch from machine to machine."It's not the same interface necessarily, but it looks and feels very similar. Consequently, for the shop floor machinists it provides a very familiar operating environment, so they are very relaxed and keen to get on another machine and try it out."All in all, the investment in HOMAG Group machinery has had an extremely positive impact on our business. Not only has the volume of production more than doubled, but also we're able to take on larger jobs than we could previously. We can now service a more cost conscious sector whilst maintaining our ability to handle our one-off and high-end production pieces at a higher quality standard."In terms of stock control and management, the TLF 411has made a huge difference. It has helped speed up production whilst at the same time giving us more control over our stock than ever before. In turn, this means we are achieving over 50% less stock wastage than before."The stress and pressure we used to work under have gone and consequently reworking has been dramatically reduced, as have the need for overtime and weekend work. Overall, we are producing more finished goods in a calmer, safer environment and our turnover and profit margins have both increased."As a company, HOMAG is very proud of what it does and that really comes across. The quality of their products speaks for itself so they don't have to resort to the hard sell approach. With HOMAG, there is a real sense of building a long-term relationship for the future and that is very comforting," concludes Antony Cockerell.
Back to List