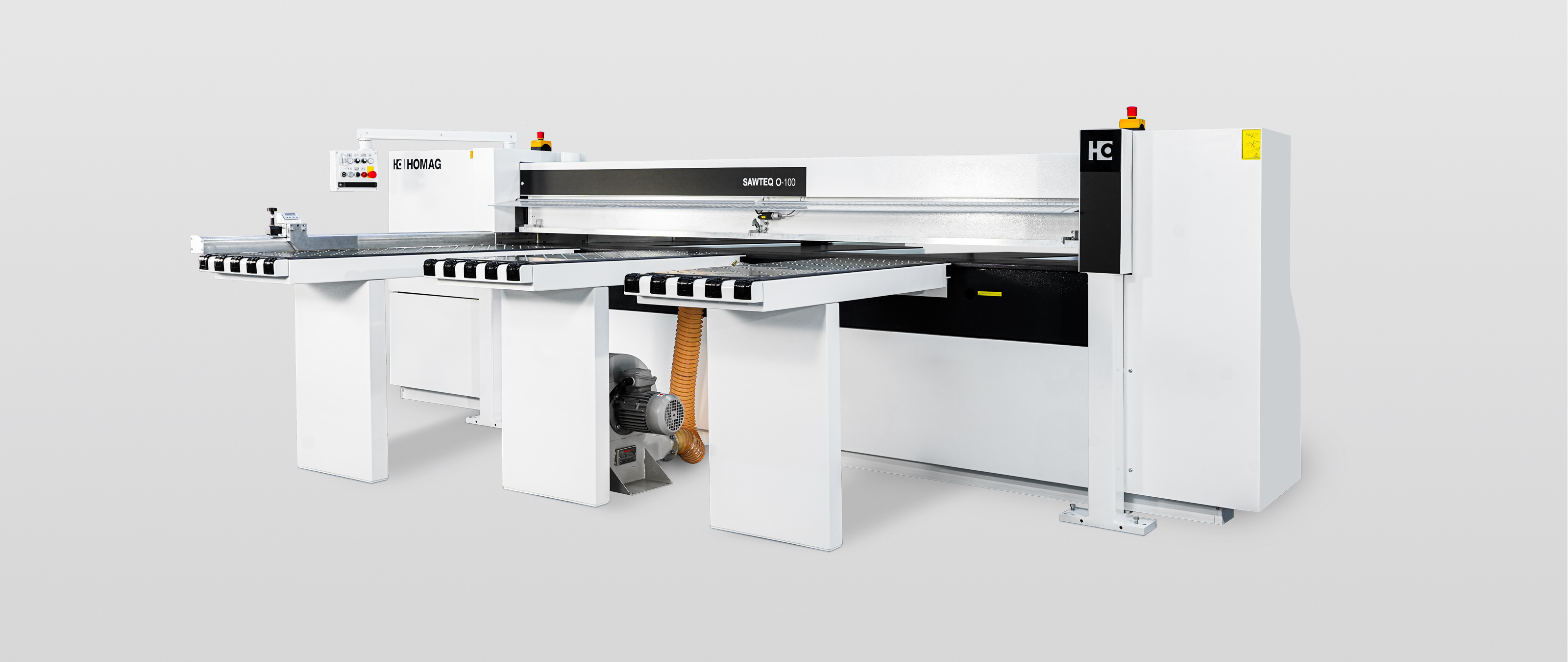 Panel dividing saw SAWTEQ O-100
Simply better, right from the start. For a more precise and efficient cutting process.
The SAWTEQ O-100 is highly suitable for woodworking shops that are ambitious. This model of the HOMAG panel dividing saws is equipped with everything needed for cutting single panels & small batches. A clear material flow around the saw & material handling working at the saw further increases the capacity. In addition, digital assistants help the operator to optimize the entire cutting process in terms of quality, quantity, and sustainability. This is achieved by proven HOMAG technologies. In short, the SAWTEQ O-100 is the solution for ambitious woodworking shops to improve productivity, and precise manufacturing at a reasonable price!
Product available only in Bangladesh, Bhutan, India, Nepal, Sri Lanka.
Benefits
Saves time and space, is very ergonomic and enables safe operation
Processing of a stack of two boards at once enables high productivity with precision, cutting quality and angular accuracy
Low maintenance costs due to the fact that the design has a small number of wear and tear parts
Automatic cutting feed: Only two operators are required
Strong efficient suction in the saw carriage for good dust extraction
Cutting Production Set for optimized digital assistance (optional)
Smooth movement by air table and perfection in measurement by DRO
| Model | SAWTEQ O-100 |
| --- | --- |
| Saw blade projection [mm] | 60 |
| Cutting length [mm] | 2,900 |
| Working height [mm] | 920 |
| Saw carriage speed [m/min] | 0 - 30 |
| Main saw blade [mm] | 300 x 4.4 x 60 |
| Scoring saw blade [mm] | 150 x 4.4-5.25 x 45 |
| Main saw motor [kW] | 5.5 (7.5 kW as an option) |
| Connected load [kW] | 8.5 (11.5 kW as an option) |
| Required compressed air supply [bar] | 6 |
| Air consumption [NL/min] | 100 |
| Dust extraction port size [mm] | 2 ports Ø 160 and Ø 100 |
| Extraction system [m3/h] | 2,600 |
| Machine weight [kg] | 1,500(Approx.) |
| Air blower volume [m3/h] | 1,000 |