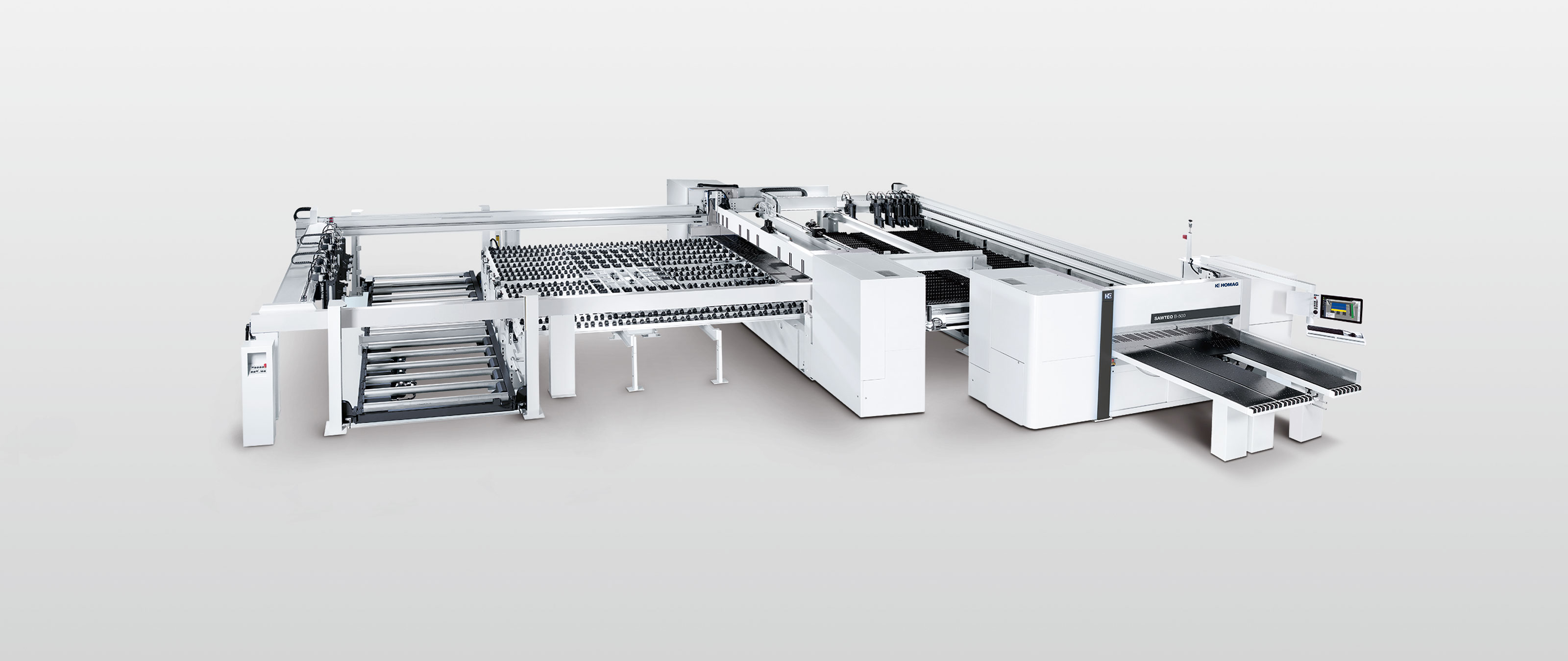 Panel dividing saw HKL 600
The largest and most powerful angular saw unit made by HOMAG is a real powerhouse for volume production.
The HKL 600 is the new high performer among the angular saw units. Tremendous material throughput, innovative technologies and great ease of maintenance and servicing are the hallmarks of this machine. The HKL 600 is built for extreme requirements and maximum utilization. It is ideal for anyone who cuts large quantities of panels in books quickly, produces in large batches and is looking for a powerful saw for multi-shift operation.
Benefits
High-performance angular saw unit for industrial use
Maximum output due to fully automatic rip and cross cutting
Suitable as a stand-alone solution or for integration in production lines
More power at no extra cost: three additional clamps in the cross cut saw noticeable improve performance
Saw body made of SORB­ TECH – advantages over steel girder designs:

– 10 times better vibration dampening
– 20% higher sound absorption
– 30% longer saw blade life
– 40% lower consumption of primary energy during its production

The brush integrated in the saw carriage sweeps dust and chips straight into the cleaning drawer at regular intervals. The drawer can be pulled out and easily emptied.

Side pressure device lowered from above and moved independently, for even more output

Control software CADmatic 5

– Intuitively understandable
– Full HD widescreen multi-touch monitor
– Harmonized user interface powerTouch
– 3D real-time process graphic
– Graphically supported diagnostics
| | |
| --- | --- |
| Saw blade projection | 190 [mm] |
| Cutting length, cutting width | rip saw: 3,200/4,300/5,600 [mm] |
| | cross cut saw: 2,200/2,700 [mm] |
| Lifting table width | 2,200/2,700 [mm] |
| Program fence speed | rip saw: 90 m/min, cross cut saw: 140 [m/min] |
| Saw carriage speed | up to 130 [m/min] (150 [m/min] as option) |
| Main saw motor | 36 [kW] at 50 [Hz], or 42 [kW] at 60 [Hz] |
| Operating software | CADmatic 5 |
Back to List