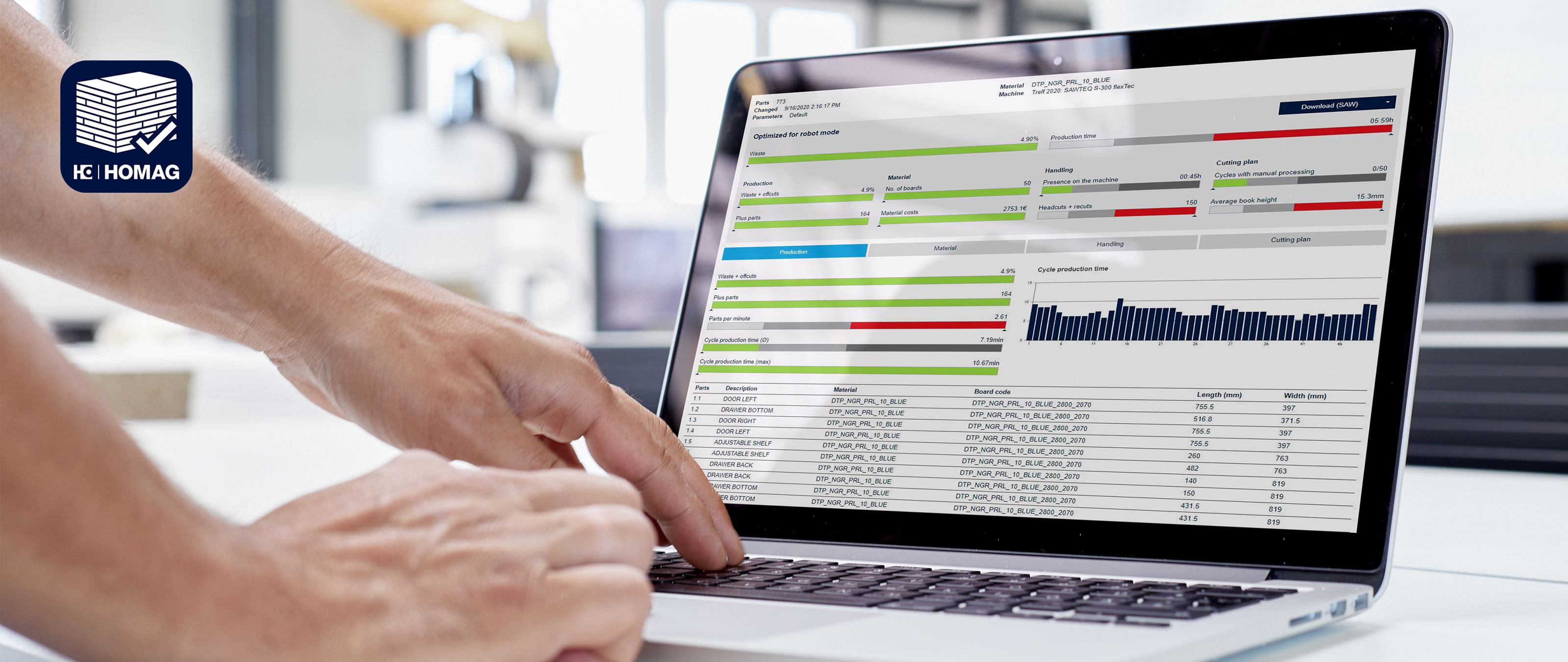 intelliOptimizer Stacking
The stack-oriented pattern-sorting tool for automated production.
Even more automation in cutting and higher productivity - this is where HOMAG customers working with a SAWTEQ B-300/B-400 flexTec robot saw can now get even more out of their production. How does this work? With the web application intelliOptimizer Stacking, which provides customized stacking strategies. The tool calculates these individually for all cutting patterns of a job during job preparation. The results are then simply transferred directly to the saw. Can be used in conjunction with the HOMAG SAWTEQ B-300/B-400 flexTec robot saw.
Benefits
Less stacks: This means fewer stack changes and less space consumption
Longer intervals between operator interventions: The working time gained can be better used for value-adding activities
Longer autonomous production: Increased cutting performance, higher pre-production for the following day, increased production output per day
Simplifies the configuration of the system: fewer stacks require less stacking space, space consumption and acquisition costs are reduced
Higher production output: More parts per shift due to less downtime
Easy to use: Intuitive operation (without any additional knowledge) delivers tailor-made stacking strategies for defined targets and optimization requests in no time at all
What does the intelliOptimizer Stacking actually achieve?
The tool reduces the number of stacks and thus the number of necessary stack changes by up to 20 percent. This is achieved by a consistent stack-oriented re-sorting of the cutting patterns. This in turn leads to an improved utilization of the pallets by the robot. The intelliOptimizer Stacking extends the intervals between stack changes and expands the ghost shifts, as the saw now is able to produce for a longer time without being interrupted. This means less downtime and more output in robot operation.

Alternative 1: CutRite.
For this optimization software we provide intelliOptimizer Stacking as a separate tool. You simply extend your CutRite for a monthly or annual fee. The cutting patterns are then uploaded directly from CutRite into the intelliOptimizer Stacking and are analyzed by a mouse click. The tool does not change the pattern layout. It simply reduces the number of stacks by intelligent re-sorting. Good to know: The tool enables a direct comparison between robot-optimized and performance-optimized production.

Alternative 2: intelliDivide Cutting Premium.
We have fully integrated the intelliOptimizer Stacking into this app for the optimization of patterns – whoever uses the app can use the tool at no additional cost. This is because intelliDivide Cutting Premium already takes into account the stacking situation when cutting with a SAWTEQ B-300/B-400 flexTec and offers you various alternatives to choose from after optimization - including the option "lowest number of stacks".
The intelliOptimizer Stacking is a browser-based application for use on a PC or laptop
For use on a PC or laptop we recommend the browsers "Microsoft Edge", "Google Chrome" or "Firefox".
Internet access (DSL, UMTS, LTE): min. 5 Mbit / recommended 50 Mbit
Registration via tapio Login (tapio account required)