Automation: Furniture out of a cell
Who produces furniture per lot, has to take up the cuttings again and again, place them onto machines, pick them up again, resort them and check if the lot is complete. Alexander Runge from HOMAG presents automation solutions.
An article from the specialist magazine DDS, May/2017. Here you can read the article on DDS-Online.
Short throughput times, low stocks and flexibility in production with simultaneously low costs today are important success factors - independent of the plant's size. These targets will similarly change procedures, processes and the work philosophy of carpenter's shops and industrial plants. Optimized material and data flows, networked machines and plants are an important part of this process. The optimum utilization of machines is now in the focus of production organization. Intelligent and continuous software connects machines and operating cells. In addition, there is an increased use of automation, such as feeding and destacking systems, pick & place applications and automatic storage and collating systems.
The consequences: Multiplied efficiency and productivity. Precision and repeating accuracy on high availability and process safety are improved. And the fully automatic material management reduces costs. Automation solutions provide for:
High precision and repeating accuracy
Efficient use of manpower
Ergonomics and physical relief
Always correct allocations
Low stocks and short throughput times
Saw-storage cell: Panel dividing is the beginning of the process chain in furniture production and is more than ever focused in efficiency consideration. Storage-saw combinations bring noticeable effects from the very beginning, because they solve logistical requirements - from the handicraft business, which possibly uses a storage system in the size of a double garage, up to the industrial furniture manufacturer, who operates a horizontal storage in its maximum dimensions.
Keeps the saw on the go
The horizontal storage system stores and removes panels fast, fully automatic and precise; collates them or conveys them to the linked operating machine. Panel saws can easily be integrated via standardized interfaces. Furthermore, horizontal storage systems structure procedures and facilitate the junction of different transport systems by which an integration of further operating machines or the return transport of offcuts into the storage will be enabled. In brief: The storage organizes the logistics, so that operating machines are able to work optimally. A continuous material flow avoids waiting times. A storage system brings competitive advantages. Here, the prime aspects are time savings, more transparency and full cost control. Furthermore it grants a complete material overview, manages offcuts and structures processes. The targets are always the same: a better material flow, transparent material stocks and the maximum throughput of the linked machines. The requirements of each individual company are decisive for the selection of a storage system. The required material throughput, material type, material weight or the available space at the location of installation have an impact of it. Storage systems can individually be configured according to these criteria.
Workpiece return conveyor: Even the smallest entry edge banding machine can be utilized optimally and in a more efficient way by combining it with a workpiece return conveyor. Only one machine operator is necessary for the complete processing of the workpieces. The workpiece flow will be optimized and the personnel organization more flexible due to economical one-man-operation. A lean and efficient production process will result from this. To decide in favor of automation in the area of edge processing is not a matter of company size, but the premise for more profitableness. So, for who is a return device worthwhile? The answer: For everyone whose plant is equipped with an edge banding machine.
Cell for drilling-sorting-assembling: Robots are suitable for buffering, decoupling and sorting. They increase throughput and yields, assure quality and improve working conditions. These factors are decisive today, because everyone has to sort the material. A robot cell sorts automatically and provides edge banding machines in optimum sequence. The cell can also be used as central magazine from which parts will be fed to individual machines.
Completeness guaranteed
Decisive advantages arise particularly in batch size 1 production, because the operator has a fully automatic direct access to each part by using a robot. Robot sorting cells have a capacity of several hundred storage compartments. The robot can quickly access each of these compartments at any time. That means: An arbitrary part stream in any desired sequence can be generated by means of a sorting cell. Completeness is also assured.
The author Alexander Runge plans and creates plant concepts at HOMAG. He supports industrial customers all over the world - his focus is in the area of packaging technology and carcass assembly.
Back to List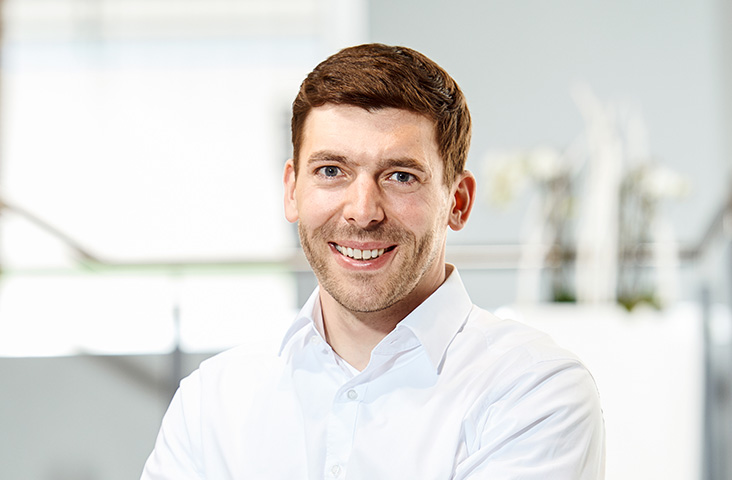 That's how your colleagues produce