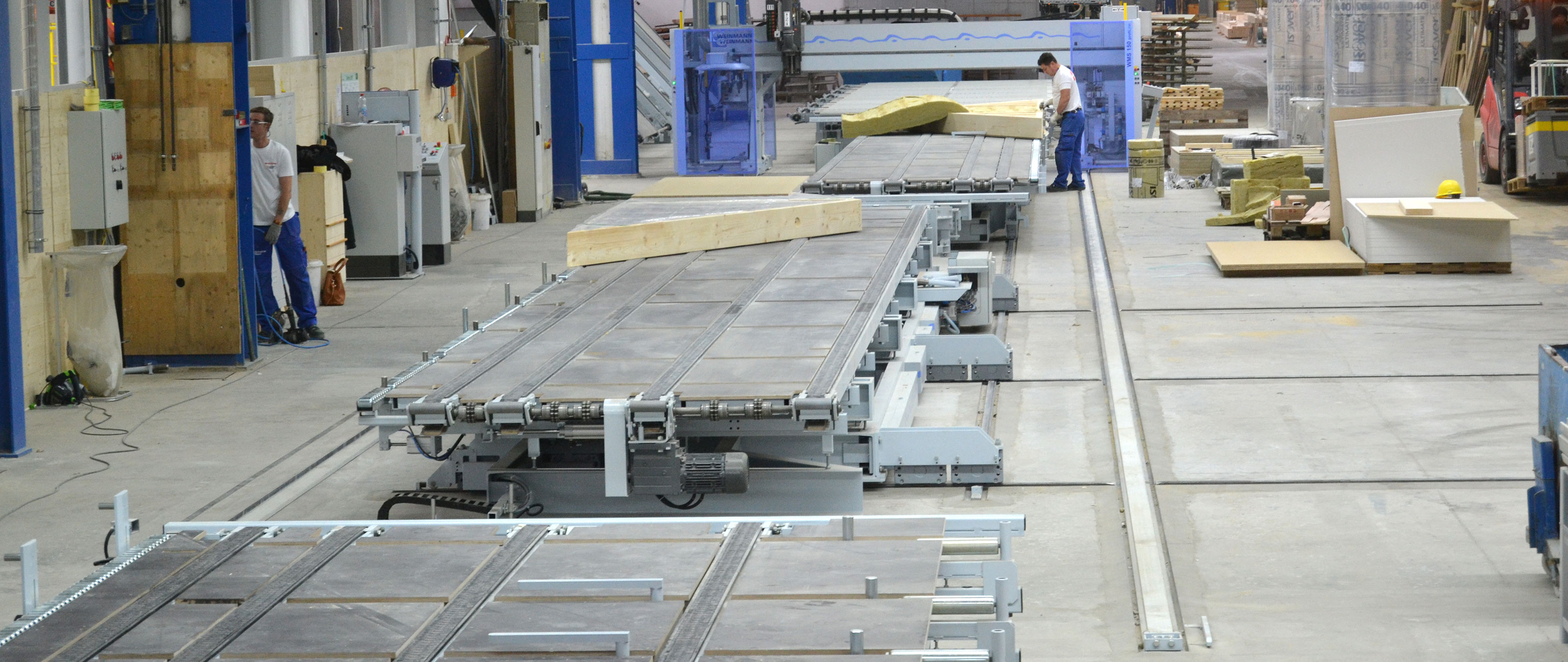 WEINMANN production lines deliver max. flexibility for Schwörer Haus
In addition to wall and floor element production, the WEINMANN machines are now also used for the production of special elements such as dormers and flap tile elements.
Schwörer Haus KG was established in 1950 and now builds 800 to 1000 houses a year, making it the largest manufacturer of prefabricated houses in Germany. Schwörer Haus, a manufacturer of prefabricated houses, became the first ever prefab WEINMANN customer in the early 1990s. At that time, a product line was set up for external and internal walls that is still operating today. Having been developed and expanded over the years, the wall production process in Oberstetten now begins with a frame work station, which has a total of 12 assembly tables with four multifunction bridges. In addition to this, WEINMANN has also supplied the Swabian manufacturer of prefabricated houses with a floor element and gable production facility. The most recent new acquisition at Schwörer Haus is a production line for special components with six assembly tables and a multi-function bridge. Journalist Dr. Joachim Mohr spoke to production manager Bernhard Hepp about this new system.

Dr. Mohr: "Mr. Hepp, Schwörer Haus seems to be a very good customer of WEINMANN Holzbausystemtechnik GmbH...?"
Hepp: "It certainly is, and that isn't just because of the quality of the machinery, which can clearly be seen from the respectable amount of time that our wall production has been running. What is almost as important to us is a level of flexibility that allows us to upgrade our machines with new units, so we can adapt them to changing demands. The modular construction that WEINMANN use as standard is therefore an important feature of their longevity..."
Dr. Mohr: "...and the further development of the units is an important part of the service..."
Hepp: "It goes without saying that service is top priority in our requirements specification; if only because our volumes mean that we cannot afford long periods of idle time. We feel we are in good hands at WEINMANN in this regard, as we receive prompt and competent help if we have problems. The people at Lonsingen are also very responsive to specific customer requirements. In addition to being able to optimize the new production line to the requirements of our construction system, we were actually able to influence some of the machine parts that were installed - this was important to us because we use in-house machine builders to carry out maintenance, so we prefer to have standardized components throughout the factory."
Dr. Mohr: "In fact, your own mechanical engineering department was also involved in developing the new production line."
Hepp: "Yes, various material feed and storage systems are taken from our in-house production." A cost-efficient and aesthetically highclass multi-family house conception in constructional prefabrication by SchwörerHaus KG and Fusi&Ammann architects.
Dr. Mohr: "And you use this line exclusively to manufacture special components?"
Hepp: "No, we can also use it to absorb capacity peaks from the other production areas. In standard operation by way of example, the new system is used for the production of wall elements that hold a high degree of prefabrication and are used for multi-story hybrid construction (concrete/wood). Panel processing with the multifunction bridge gives us more flexibility in the materials we use, so we can respond to individual customer wishes.
The multitude of special components we process includes jamb walls, dormers and wall elements from our so called »Flying Spaces« range - multi-functional residential modules which are offered as single mini homes, as extensions or as a multi-purpose housing complex. The system is therefore extremely flexible and can produce for example wall elements up to 14.50 m long. We also have a bit more room to maneuver when it comes to gable heights. With these components, we can use the new system to combine process steps that we previously had to carry out manually. On the other production lines, the minimum height is 140 cm and the maximum length is 12.50 m."
Dr. Mohr: "What do you think are the main advantages of switching from manual to machine production?"
Hepp: "Primarily, a consistent degree of precision at a very high level, which manifests itself in the quality of components and simplifies the quality management process. Another advantage is efficient manufacturing with short production times."
Dr. Mohr: "Mr. Hepp, thank you for your time."
Source / Image rights: Reproduction approved by SchwörerHaus KG, 7231 Hohenstein, Germany
Photos: Martin Kunze
Written by: Dr. Joachim Mohr
Back to List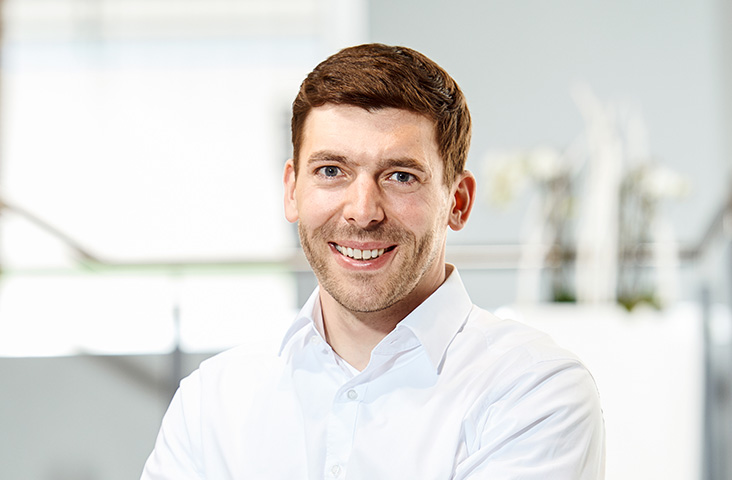 That's how your colleagues produce