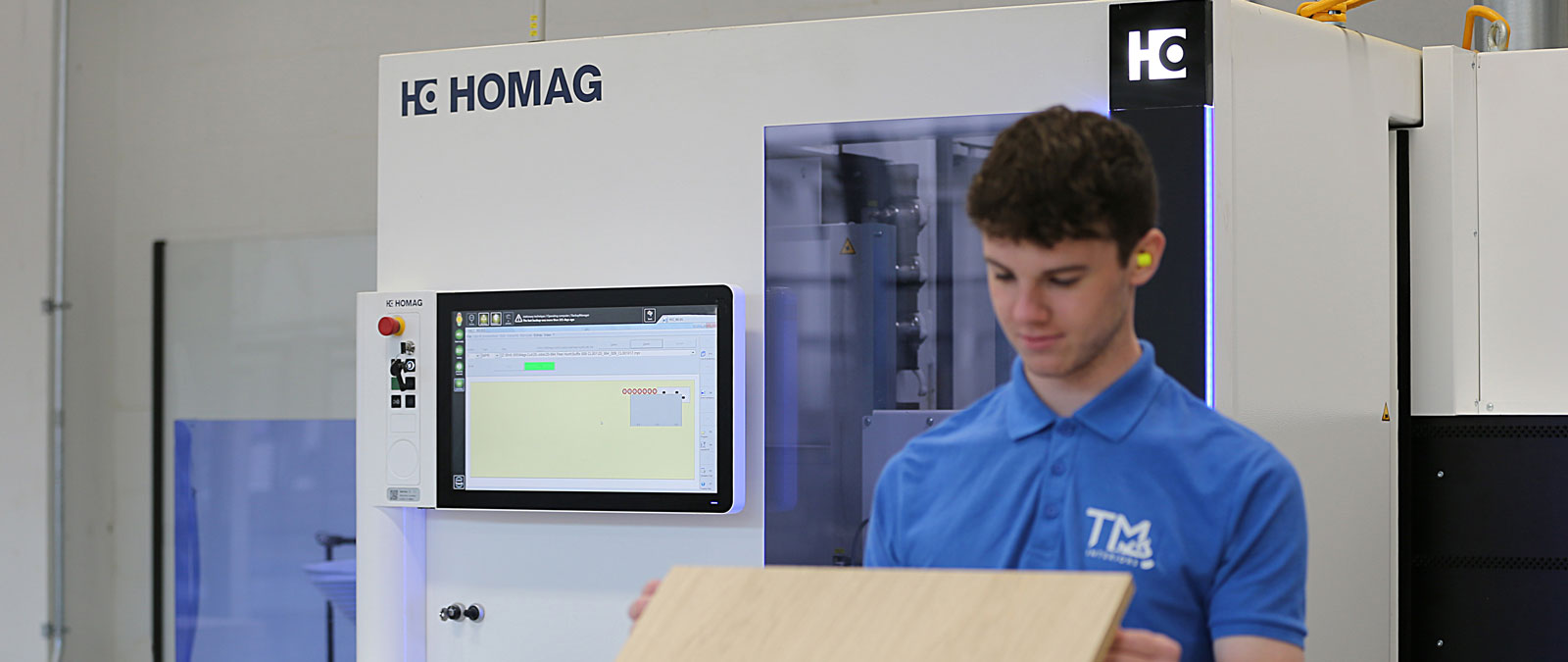 Taylor Made Joinery investing in the future with HOMAG
Rather than opting for a short-term fix to accommodate an increasing demand of cabinetry units, TMJ decided to make a major investment in the future of the business.
The German parent company not only designs and produces innovative, easy to operate machinery with a robust build-quality, but it also develops first class software and control systems. All this is backed up by an extensive network of engineers in the UK who support and service us when the need arises.

James Taylor, Taylor Made Joinery Interiors' Founder and Managing Director
Established in 1981 by James Taylor, Taylor Made Joinery Interiors Limited (TMJ) began trading from a 1,500 sq. ft. barn at Newberry Farm in Suffolk. The company manufactured the domestic joinery for GA Taylor Builders, his father's construction company.
During the 1990s TMJ moved into a purpose built 36,000 sq. ft. works and completed the most prestigious project to date, the refurbishment of 10 Downing Street. Since then it has completed many notable projects including restoring the Private Chapel at Windsor Castle after the devastating fire in 1992, the Royal Opera House refurbishment of the main auditorium, the £5.5m Royal Festival Hall project and the London 2012 Olympics project worth £7.5m.
In 2018 the directors of the business could see that the work the business was handling was changing. "There was an increasing demand for cabinetry units," explains founder and managing director, James Taylor. He continues, "To accommodate this change we realised we would need to increase our production to remain competitive in the market."
A major investment
"Rather than opting for a short-term fix, we decided the time was right to make a major investment in the future of the business. We wanted to automate large swathes of our production process to give us a significant competitive advantage.
"So began a thorough market evaluation. We looked at where the market was and where we thought it was heading. We evaluated our main competitors to understand their strengths and weaknesses, and we looked at what new machinery and software were available to automate our production processes. Following this we predicted what we thought the needs of the business would be over the next five years, all of which was done prior to COVID-19, of course.
"Perhaps the biggest commitment we made was to invest in HOMAG's automated storage and retrieval system, the STORETEQ S-200 along with the SAWTEQ B-300. Although this machinery itself was a major investment, the overall outlay was much greater. Accommodating this new equipment into our operation meant a £¾ million project for the construction of a new 13,000 sq. ft. building which required the demolition of part of the existing site."
Partnering with HOMAG UK
"The decision to procure the STORETEQ S-200 with the SAWTEQ B-300 was part of a package of equipment that we eventually purchased from HOMAG UK. The process of finding the right partner for this equipment began with looking through the various trade magazines and going to the trade fairs in Germany and the UK.
"Once we had completed our initial research we contacted Charles Smith, our HOMAG UK area manager. We have known Charles for many years and during this time have built a strong and trusting relationship with him. His knowledge and experience of the industry are second to none, and he really understands our business.
"He listened to our goals and then helped us put together a package of machinery and software that would deliver what we were looking for. Charles was able to bring to the party, not only his extensive experience, but also the knowledge of successful solutions his other clients have implemented.
"From our side, we wanted to specify machines with a little bit of extra flexibilityto cope with the changes in demand that often occur in the market. Whilst we're doing a lot of cabinetry work at the moment, we need to have the ability to handlemore solid joinery jobs and work with other materials when the need arises.
"Together we were able to draw up a list of equipment that included a DRILLTEQ V-500 vertical CNC, the SAWTEQ B-300 beam saw coupled with the STORETEQ S-200 automatic storage and retrieval system, a LOOPTEQ O-300 automatic return system for our airTec edge bander and a CENTATEQ P-210 5-axis CNC router. We also invested in the MagiCut software to maximise the potential of the beam saw.
"Before committing to the machinery, Charles arranged for us to visit various UK manufacturers who had similar models. Seeing the machines out in the field working on real jobs is very important to us.
"It's all about engaging our workforce in the procurement process. So when we visited these sites we took some of our operators along with us. This gave them the opportunity to talk to fellow operators in other businesses, not only to understand how the machines perform, but also to learn new techniques and production ideas that could potentially benefit our business.
Setting up the new facility
"Back in 2013 we were one of the first companies to invest in the HOMAG BHX 200 vertical drilling CNC. Since then, we have experienced exceptional business growth and a bottleneck had emerged in the production of cabinets, specifically regarding the jointing process.
"Consequently, the first of the new machines to be installed in February 2019 was HOMAG's DRILLTEQ V-500. Previously, we used to 'biscuit' the joints for cabinets and carcasses; this was done on the bench by hand; it was, however, a slow and far from satisfactory process which involved a fair amount of finger crossing when it came to lining up the holes and making the joint flush!
"The DRILLTEQ V-500 has changed all this; it not only drills the holes accurately and quickly, but it also delivers a 50 percent improvement in time-saving as it automatically inserts the dowels, consistently producing stronger joints with absolute accuracy.
"The STORETEQ S-200 with the SAWTEQ B-300 was perhaps the most significant part of our plan. The installation of this automated storage and retrieval system was critical and I have to take my hat off to the professionalism of HOMAG's installation team. The complex process took time, but the install went very smoothly, and I would like to pay tribute to one particular HOMAG engineer, Gordon Mackenzie, who was so accommodating throughout the process.
"This technologically advanced system has revolutionised our business. It gives us the ability to increase our production capacity by at least 20 percent. We can load the sheet material in the day time, select and prepare the panels in the evening whilst the factory is shut, then cut them when the shift arrives in the morning before sending the work pieces straight to the edge bander and the CNC machines.
"It makes the most of the whole day, not just the normal working hours and it's given us options. Previously a lot of the panels were subbed out for cutting, but now we can handle all of the work in-house so we control everything, especially the quality. And of course, we save on transport, handling and sub-contractor fees too."
Establishing a door and door-frame cell
"Our new CENTATEQ P-210 CNC was purchased to manufacture our doors and door frames. Again, previously a lot of our door packages were subbed out, but in the last month we've made around 400 door sets within the factory, so that's given us yet another competitive advantage.
"We can now diversify into different products as well. So we are able to target new markets where previously we wouldn't have been able to compete. For example, we are now competitive in both the hotel fit out and laboratory markets.
"Our reasons for partnering with HOMAG are numerous. Over the years a real trust has built between our two companies. This has been cemented by Charles Smith whose input and professionalism we value highly. The German parent company not only designs and produces innovative, easy to operate machinery with a robust build-quality, but it also develops first class software and control systems.
"All this is backed up by an extensive network of engineers in the UK whosupport and service us when the need arises. Financially, the HOMAG solution works well too; we expect to achieve a return on our recent investments within four years.
"In June this year we added another HOMAG DRILLTEQ V-500, this time with an automatic return system. This was purchased to handle the increasing amount of repeat business we get.
"Our turnover for this year will be around £36 million; however, with recent investments in HOMAG machinery and software, we will see this grow to over £50 million within a few years despite the COVID-19 pandemic.
"The automated solutions from HOMAG have helped us operate safely throughout these unprecedented times. We have established a two shift working pattern with a one hour gap between shifts to allow for cleaning down. It would be remiss of me not to mention our own workforce whose flexibility and dedication in these challenging conditions have, in no small measure, been responsible for us being able to maintain our production levels," concludes James Taylor.
Back to List