Superlative timber construction
— manufacture of roof elements with millimeter precision for the largest timber dome structure in Europe Interview with Armin Röhm, Head of the Häring timber and modular construction product division, Pratteln, Switzerland
Performance: "Mr. Röhm, would you tell us a few facts about your company?"
Röhm: "The Häring group, which employs around 300 people around the world and has been family-owned for more than 130 years, consists of a total of six different divisions. One of those is Häring Holz und Systembau AG in Switzerland — an extremely innovative company.
Our timber and modular construction products division, the founders of which have committed themselves to timber construction with a great deal of passion, currently employs 70 people at its headquarters in Pratteln, in the Basel-Land canton of Switzerland; this number includes an unusually high proportion of apprentice carpenters (10) across three apprenticeship years."
Performance: "Can you give us some figures for the Saldome 2 project that was a big sensation worldwide?"
Röhm: "Both timber dome constructions, Saldome 1 and 2, were built by our company, or rather, the elements for the gigantic timber support construction were manufactured in the Häring plant. The Swiss Salt Works uses the two unusual buildings for salt storage. Saldome 2, which we started to build in August 2011 and which will be officially opened and commissioned on May 14, 2012, has a diameter of 120 m and is 32 m high. The roof area is 14,500 m². We had to overcome considerable construction technology and logistical challenges — the entire free-form construction had to be put together by our seven engineers, who only had 12 weeks to set it up, without any supports.
Saldome 2 consists of arched girders (BSH) that are held together with steel connections and roof elements that are planked with Cetris and OSB. The average size of the two-sided curved elements is 13 m x 2.30 m and the weight of each is around 900 kg."
Performance: "Were all the elements for Saldome 2 produced using WEINMANN machinery?"
Röhm: "Yes, the 639 roof segments that make up the building were produced in a WEINMANN system consisting of three element production tables connected to a WMS 150 multifunction bridge in two-shift operation, with a capacity of 15 to 20 elements per day. Three employees worked in each shift. If the elements had had to be produced using conventional methods, we would have been forced to take on eight external employees during the production phase. The big advantage of this production method is that all elements were produced dry, which meant that immediately after production, we were able to apply a special waterproof coating. The elements were then transported to the construction site on schedule, assembled there, and then, as the last step, all we had to do was seal the element joints."
Performance: "To what extent have the production sequences and processes changed since the installation of the WEINMANN system?"
Röhm: "The system enables us to produce different element types with a wide range of processing methods. From the classic, double-planked timber frame construction, through rib elements with planking on one side, right up to solid wood panels up to 60 mm thick: everything that is within the maximum processing size of 3.80 m x 13 m is produced using this system. In my opinion, the great benefit of such a system is not only in its flexibility with regard to the processing methods available, but also in its continuous data processing. We can also produce batch size 1 with no problems. This was clearly demonstrated in the Saldome 2 project, when we used the WuP interface (WEINMANN and partner data format) to transfer all data of each individual element of Saldome 2 directly to the machine. This saved a great deal of time in production and also ensured that we were able to meet the required production tolerances."
Performance: "Which special production technology demands were you confronted with as a result of the architectural properties of the dome construction?"
Röhm: "Well, the greatest challenge was in establishing a method for producing the curved elements. One specialty of our plant is the option of processing special elements with a curve of up to 400 mm — a specialty that is probably unique to us. We suspended the processing units for sawing, clamping, and nailing so that they could adapt themselves to the contour of the element. This solution, which was devised especially for this project by the WEINMANN engineers, enabled us to achieve cycle times of approx. 30 minutes per element (including handling), which allowed us to shorten delivery times considerably."
Performance: "How did the operating personnel respond to the new system?"
Röhm: "As far as working ergonomics is concerned, the WEINMANN bridge is very operator-friendly — at the tables, the operator is not required to do any work bent over, as the WMS takes over all the difficult processing tasks. There is no sorting and picking work that otherwise would have to be performed manually. The effort required for logistics is minimal. Since we can place order-neutral raw panels on the machine, no pre-cutting or sorting of optimized panel batches is necessary — neither is there any need for interim storage of commissioned panel stacks, which means that the risk of damage is virtually zero. The multifunction bridge can even take over additional special processes on a fully automated basis, such as fully automatic bonding with PU one-component cold systems, fixing work with clamps, nails, and line marking, as well as labeling. While the machine performs the processing work, our people can carry out logistics tasks, for example, deal with the material preparation or read schedules, clamp ex-changeable staple magazines and refill nails. So far, the feedback from the operators has been very positive."
Performance: "Are you happy with the quality of the elements produced?"
Röhm: "Let me just add first of all that the system structures the production processes. We can track and plan them, which gives us advantages in costing and re-costing. What speaks for itself is the unbelievable precision that the elements display. Even with multi-layer panel planking there were no deviations greater than one millimeter!"
Performance: "What demands do you think will be placed on the Swiss timber construction industry in the future?"
Röhm: "The trend is undeniably in the direction of automation. The demands that companies face are continuously increasing and the time pressure is getting even greater. Wall and roof elements of consistently high quality and the highest precision can only be achieved even now with a high level of pre-fabrication."
Performance: "Have your activities since extended to neighboring countries or is your business exclusively in Switzerland?"
Röhm: "Quite the contrary — we are not only element suppliers for Swiss carpentries that, due to lack of space or excessive workload, cannot produce sufficient quantities of elements for large orders; we are also increasingly serving the French market. In light of the law on sustainable and energy-efficient construction approved by the French government that comes into force in 2013, which has 600 billion euro in financial backing and is initially going to be valid until 2020, a wide market is opening up for us in France.
With the WEINMANN system, we can now produce on a cost-neutral basis for the French market. The timber construction industry is expected to boom because of its sustainability, and for our business partners in France, the change in thinking towards energy-conscious construction is still new territory — so they are very interested in establishing reliable partnerships with experienced timber and modular manufacturers from the neighboring countries."
Performance: "Which internal decision criteria contributed to in-vesting in anelement production system?"
Röhm: "The volume of orders had been good in recent years and when WEINMANN Holzbausystemtechnik GmbH offered a suitable solution for the production of the curved Saldome elements in autumn 2010, it quickly became clear that we definitely wanted to make the required investment. This was in spite of the fact that at that point in time, we already knew that we would have to dismantle the entire system in December 2012 and subsequently re-install it in a new production plant in Eiken, 20 km away. Obviously, we obtained extensive information and corresponding bids from various providers beforehand, but with WEINMANN we felt from the very beginning that we had received a credible and realistic quote that has since proved itself throughout. Thanks to the enormous production capacity of the machine, with an annual production volume of approx. 3.000 m², we will soon be able to meet the needs of our external customers as well. Since we commissioned the WMS 150, our productivity has increased overall by a good 50%."
Performance: "Mr. Röhm, thank you for talking to us."
Back to List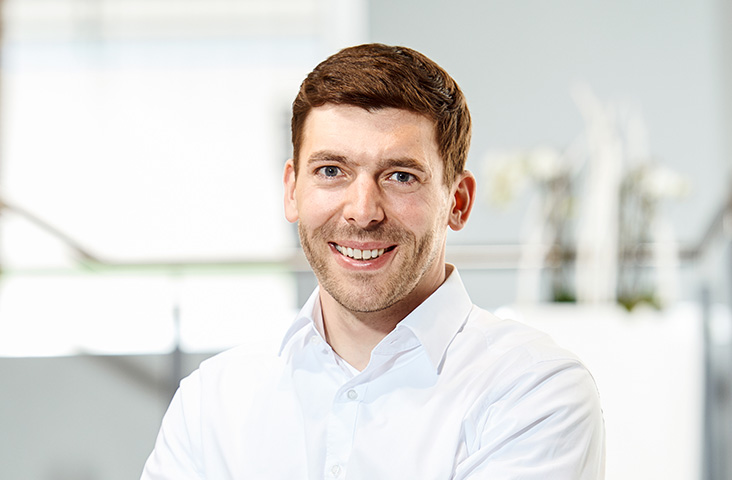 That's how your colleagues produce