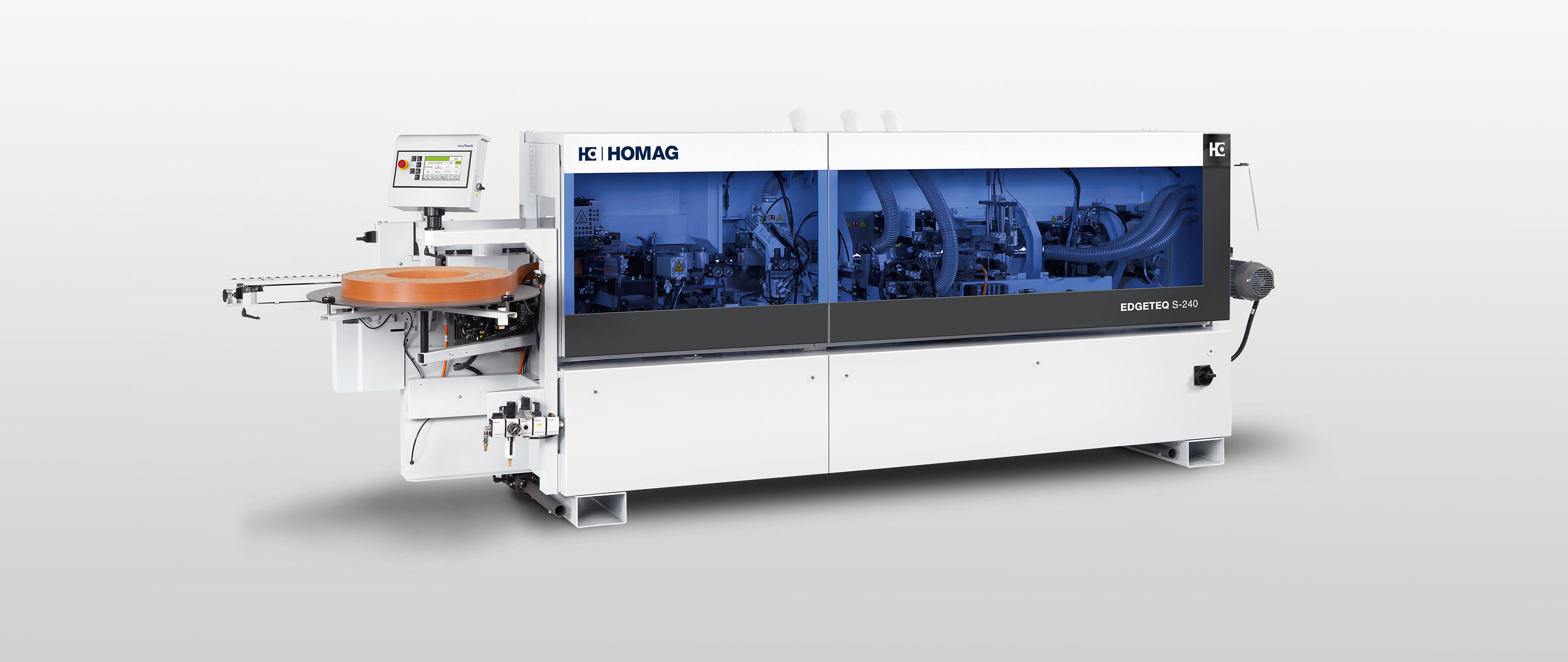 HOMAG's airTec system produces perfect edges for Atelier Joinery
For joiners with high-end requirements, the EDGETEQ S-240 airTec is the ideal machine and proved no exception for Macclesfield based Atelier Joinery.
The team of people at HOMAG UK are friendly yet professional and, despite the fact that we are a relatively small joinery firm and HOMAG is the industry's global market leader, they look after us brilliantly. They seem committed to giving smaller businesses excellent service.

Simon Albiston, Atelier Joinery's finance director
Innovation and craftsmanship are the cornerstones of Macclesfield based Atelier Joinery's business. Founded in 2010, the company focuses on two key markets: premium bespoke furniture for the residential market and on the trade side, upscale bars and restaurants.
"Each member of the Atelier team shares a collective passion and drive for the work we do," explains, Simon Albiston, the company's finance director. He continues, "We seek quality in all that we do, from the work we produce to the materials and machinery we use.
"As a result, the business has grown significantly over the last few years and our client base has become more discerning and demanding. One area that was causing us concern was the quality of our edge banding which we felt had the potential to let us down, particularly when using plain colours where joints are more visible. "
Investing in HOMAG
"When it comes to machine quality, the one brand name that always surfaces is HOMAG; they have a great reputation for producing the very best equipment and software in the woodworking industry. So naturally, they were the first name on our short list of three.
"Although the other two brands we looked at had good machines, there were two key benefits that convinced us that HOMAG offered the perfect solution for Atelier. Firstly, its airTec edging system was mighty impressive when we saw it demonstrated at HOMAG's Castle Donington showroom. Even using plain materials, the joint was just about invisible.
"Secondly, HOMAG's service backup is unique within the industry. We've had our fingers burnt in the past, but you know you can rely on HOMAG. They have the size and financial strength to support their customers with their own engineers. It makes such a difference to know that they have your back when issues arise."
Edge Bander EDGETEQ S-240 airTec
"It was these two advantages that clinched the deal for us and with the help of HOMAG's Jon Lawman we settled on the EDGETEQ S-240 airTec edge bander. With the work we had in the pipeline, we were keen to get the machine as soon as possible. Luckily, Jon managed to secure an ex-demonstration model for us that was available almost immediately.
"Every aspect of the purchase was handled professionally by HOMAG including the setting up of a finance package through HOMAG Finance and Deutsche Leasing. They made it easy and stressless which was great."
For joiners with high-end requirements, the EDGETEQ S-240 airTec is the ideal machine. Whether for production of the perfect zero-joint or for other edge processing, the machine consistently delivers first class results.
The nerve centre of the machine is the gluing unit, which alongside the airTec activation unit also acts as a dual solution, guaranteeing outstanding flexibility. Next to the gluing unit, the machine is equipped with a joint trimming unit, a two-motor snipping unit, a trimming unit and a profile trimming unit. A radius scraper and a buffing unit ensure a perfect finish.
The airTec models for the EDGETEQ S-240s series are characterised by their high level of automation and a comprehensive range of processing units.
Control of the EDGETEQ S-240 is via the powerTouch widescreen HD monitor that allows machine functions to be controlled directly by touch. The entire programming interface is optimised for powerTouch operation and offers numerous new help and assistant functions that make working processes substantially easier.
The EDGETEQ S-240 range offers comprehensive solutions for the flexible and economical manufacture of products. Whether living room, bedroom or kitchen furniture, functional office furniture, superior shopfitting solutions or batch size 1 production for bespoke requirements, the EDGETEQ edge banders are designed for the tasks.
Well-orchestrated installation
Simon Albiston takes up the story again, "We were super-impressed with the way HOMAG went about the installation process. Shortly after we'd agreed to buy the machine they booked the installation dates with us. Then Stuart Hinds from HOMAG came out to survey the site prior to installation to make sure all the necessary preparation would be in place when the machine arrived.
"Given the challenging access to our building this was critically important and Stuart's thorough and professional approach impressed us. The machine duly arrived on the specified date and was installed and commissioned on time. One of the installation engineers gave our staff a day's training on the EDGETEQ S-240 and we were up and running. It couldn't have been made easier."
Outstanding results
"The machine has been operational now for almost a year and the results have been outstanding. The quality of the products we can produce now has increased dramatically.
The EDGETEQ has given us complete confidence that none of our competitors can produce a better product than us. We know that whatever materials we are working with the HOMAG machine will deliver a virtually invisible glue line. That is such a great benefit for our business.
"In terms of service, on the odd occasion when we have had an issue with the machine, HOMAG's engineers have been quick to respond. They always sort the problem and get us back up and running with the minimum of delay. That's something we really appreciate, because downtime not only costs us money, but can also potentially cause us to miss delivery dates which in turn can damage our reputation."
A thoroughly professional team delivering affordable quality
"Overall, it seems to us that HOMAG's business is very well organised and structured. The company is not reliant on any third parties, so everything is in its control and that gives us, as a customer, tremendous peace of mind.
"Indeed, everything about HOMAG gives us confidence. The team of people at HOMAG UK are friendly yet professional and, despite the fact that we are a relatively small joinery firm and HOMAG is the industry's global market leader, they look after us brilliantly. They seem committed to giving smaller businesses excellent service.
"As is well documented, HOMAG's product range offers premium quality solutions. Yet despite popular opinion, the investment levels required for its entry level models are surprisingly affordable when you consider what you get.
"The initial outlay for a HOMAG machine may well be more than some others on the market, but in our opinion, the lifetime value of partnering with HOMAG far outweighs such considerations. At the end of the day, we've found that you can rely one hundred per cent on HOMAG; underlining that ultimately, you get what you pay for." concludes Simon Albiston.
If you'd like a demonstration or more information on the range of HOMAG EDGETEQ machines, please contact HOMAG UK on 01332 856424.
Back to List