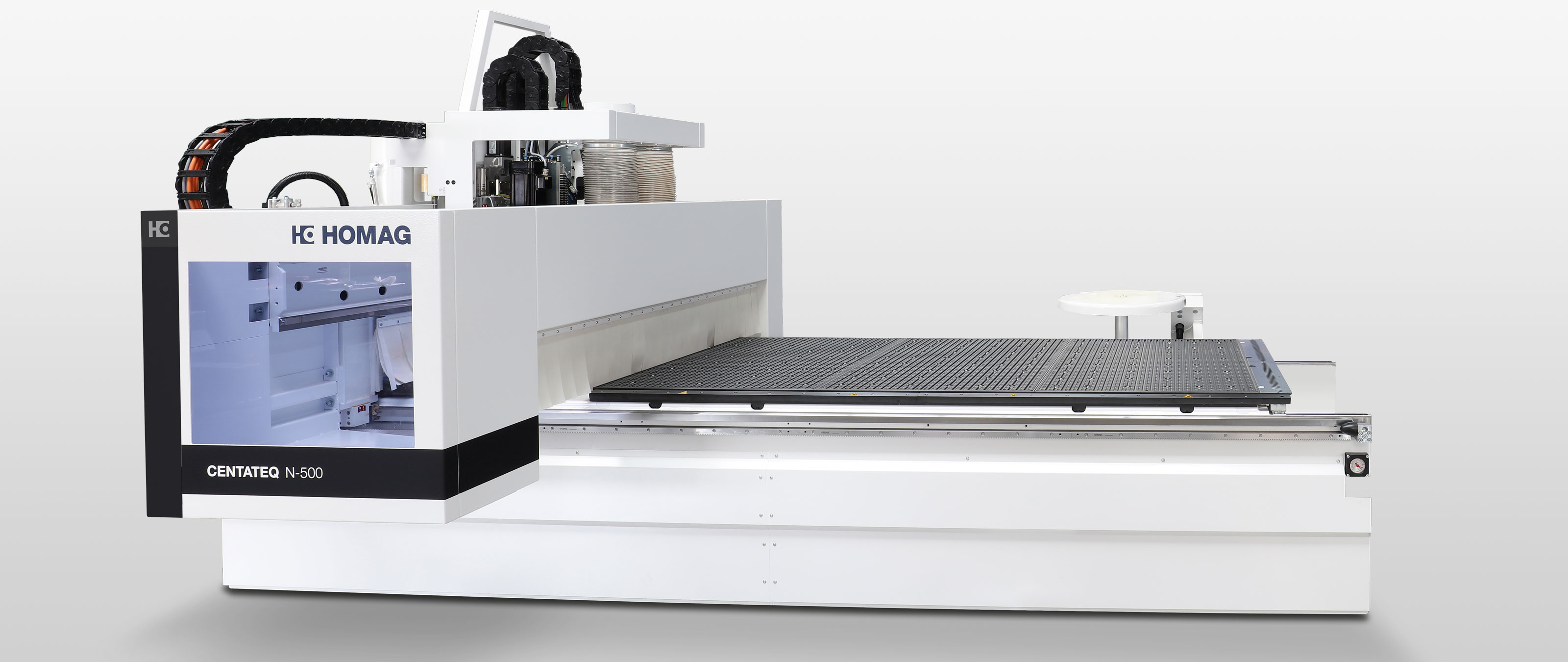 New start-up Intrinsic Works partners with HOMAG UK
Start-up furniture manufacturer, Intrinsic Works, knew they had to hit the ground running and have woodworking machinery that they could rely on to produce first class quality
After in depth discussions we finalised our decision and it was the reputation of the HOMAG brand that won the day. We didn't want to risk settling for second best and of course the quality of the HOMAG product speaks for itself.

Steve Chaney-North, Founder and Managing Director, Intrinsic Works
Based in the heart of Leicestershire, Intrinsic Works is a start-up furniture manufacturing company specialising in bespoke bedroom, home office and media furniture for the trade. The company began trading from its 6,000 sq. ft. Stoney Stanton facility in November 2018 and has achieved remarkable results in a very short time. It will hit a turnover of around £700,000 in its first full financial year some 40 per cent up on target.
From the outset, Intrinsic Works' goal was to produce premium products; to do that meant investing in the very best machinery available. Founder and managing director, Steve Chaney-North, takes up the story: "For the venture to succeed, we knew we had to hit the ground running and have woodworking machinery that we could rely on to produce first class quality products consistently.
"We bought a plot of land and had a purpose built facility designed and constructed to house the business. Selecting the right machinery partner was possibly the most important part of our strategy. If we got it right we had a fighting chance, but if the machinery let us down there was a very strong possibility we'd sink without trace."
Researching the market
"Given the high stakes, we approached the three leading brands in the industry, quickly narrowing down the choice to two, one of which was HOMAG. After in depth discussions we finalised our decision and it was the reputation of the HOMAG brand that won the day. We didn't want to risk settling for second best and of course the quality of the HOMAG product speaks for itself.
"From our first discussion, Matt Long and Simon Brooks made us feel confident and relaxed about, what for us, was a very significant investment. We explained what we needed the machines to do and they came back with recommendations to address our requirements.
"Initially, we had asked for an edge bander, a beam saw and a vertical drilling station. Matt came back, however, and asked if we had considered a CNC nesting machine rather than the saw and drill combination.
"To be honest we hadn't thought about that option. When they explained what the nesting machine could achieve and the automation it would bring to our business, we were totally sold on the idea."
EDGETEQ S-390 and CENTATEQ N-500
"The package we agreed included the EDGETEQ S-390 model 1860E edge bander and the CENTATEQ N-500 CNC nesting machine. HOMAG was really helpful in finalising a deal we could afford. They introduced us to a finance company that provided a cost-effective five year agreement.
"The EDGETEQ S-390 is a cracking machine. The quality of the finish is absolutely first class; it is fast (20 m per min) and completely reliable. We did think about a return system, but as most of our work is batch size one production, it didn't make sense for us.
"As for the nesting machine, that was such a good decision. Basically, the CNC performs two operations in one pass; cutting the panels and drilling them with incredible accuracy.
"What's more, it is totally automated. We put the jumbo panels on the machine using a forklift truck and then the machine takes over, cutting, drilling and off-loading automatically.
"Not only does it save us around 40 per cent time wise, but it also requires one less operator, reduces energy usage and, from a health and safety aspect, avoids any manual heavy lifting."
HOMAG: Quality products, first class service
"Both machines deliver exceptional performance. The accuracy is amazing and totally consistent, whilst the quality of finish is second to none. Additionally, once you've been trained, they are fast and easy to operate.
"To maximise performance we invested in HOMAG's e-solutions and MagiCut software. This enables us to do all the bespoke programing in the office and then send the information down to the shop floor where the machine operators just have to hit the go button.
"Naturally, with technically advanced machinery, there will always be the occasional issue. The service support from HOMAG, however, is outstanding and they get us back up and running in no time at all.
Giving Intrinsic Works' customers the confidence to order
"As a new company, we knew the margin for error was slim. Our approach was to target the fitters and make sure that every product we produced for them was accurate, easy to install and fantastic quality.
"We made their lives easy and consequently saved them time and money. Word of our performance soon filtered up to senior management of the retailers we supply who now had first-hand proof of our abilities and performance levels. Unquestionably, the HOMAG machinery has been instrumental in achieving this success and I can't recommend them highly enough," concludes Steve Chaney-North.
Back to List