Five-storied timber-frame multi-generation house - a dream or already a reality?
One of the largest timber construction buildings in Switzerland, built by the long-established Swiss enterprise KNECHT AG, located in Oberwil near Winterthur-Schaffhausen sets new standards.
The multi-generation house has caused quite a stir, not only within the timber construction sector. It consists of 2 prominent, six-storied building parts, which are connected in the north and south through 2-storied structures.
Establishing a social network on 1.000 m² of living space
In Winterthur a sustainable settlement project is coming into existence, providing comfortable lodging for both young and old people. Since the start of construction in spring 2011 a total of 164 apartments, showing different layouts have been created on floors. In addition, the buildings will offer some commercial space and artist's workshops, a restaurant, recreation rooms plus a daycare facility for children. All lodging units are designed barrier-free and offer disabled access, implicating further integrative advantages. The aim of that particular concept is to create some cohesion among the residents and to offer space for social events and gatherings.
The highest fire protection and sound insulation standards
Max Knecht, management member and co-owner of the KNECHT AG, tells us that the building materials of the multi-generation house solely consist of unpolluted, sustainably produced raw materials, (complying with the Minergie-P-ECO-certificate) which are mainly locally produced. The building foundation with the basement floor, as well as the staircases and elevator shafts are partially built from recycled concrete. All other load-bearing elements consist of wood, impressively showing the high future potential of this building material. The sound insulation and fire protection standards of the building are very high. That means with the building material wood, in combination with other suitable materials, even the strictest regulations are achievable.
CNC-controlled element production line, made in Germany, in use
Operations and adaptations that - in the past - were done on site, today are performed by means of CNC-controlled machines, so cost-intensive work on site increasingly ceases to exist. The elements the multi-generation house consists of are up to 3.80 m high and are manufactured with a WEINMANN production line, consisting of a multi-function bridge Profi WMS 150 and severalassembly tables. The substantial equipment of the multi-function bride offers, in addition to 5-axis solid wood processing for up to 200 mm of board thickness, a wide range of processing. Units for gluing and screwing make the line enormously flexible. Special lengths of up to 13 meters are feasible and even elements of 2 meters length can be clamped and processed.
Minergie-P-ECO standards easily achieved
For fire protection reasons all timber elements are covered with Fermacell boards at the outside. Thermal insulation and energy supply are done in a way, so the Minergie-P-ECO label is complied with. Heat energy and hot water are generated via long-distance-heating (originating from a waste incineration plant) and electricity is generated via photo-voltaic units on the roofs.
In Switzerland the dimension of this exceptional project has certainly been unique so far and a couple of challenges in terms of production had to be dealt with. This is because the floor and wall elements consist of wood, the production of these two element types had to be coordinated very well, in order to ensure a smooth building construction. Since the installation of the WEINMANN line the production of the enterprise, that is well-known for its innovations, is running much more flexibly. All data sent by architects and engineers can be transferred in any stage and can be followed up and then sent to the machine control. This is also the case when concerning the cooperation with smaller timber construction enterprises. The KNECHT AG, a specialist for energy-efficient and ecological civil engineering, has got its own architect's office, and, amongst others, acts as a general contractor.
Timber construction boom in full swing
Normally the enterprise that is looking back to an almost centennial company history employs about 60 permanent people. Due to the currently extremely high order volume, a considerable number of additional work force needed to be hired. Mr. Knecht thinks that the current boom in the timber elements sector will continue for a long time, if not even accelerate! On the one hand the fast and highly accurate timber construction method bears serious advantages compared with conventional building construction, and on the other hand suitable and highly economical solutions can be found, when difficult structural conditions have to be dealt with. This is the case, when floors have to be added to already existing buildings, which only have limited static bearing capacity.
A factor-2-capacity increase
Mr. Knecht states that customers' requirements concerning the profitability of real estate have increased a lot in the recent past. That is why construction costs, as well as construction times need to be kept down. These market demands can only be met by the use of automated and thus highly precise construction methods.
Since the installation of the element production line KNECHT AG produces the same element volume in almost half the time, as measured by the working time of each staff member.
Source:HOB, Ausgabe 12/2012
Back to List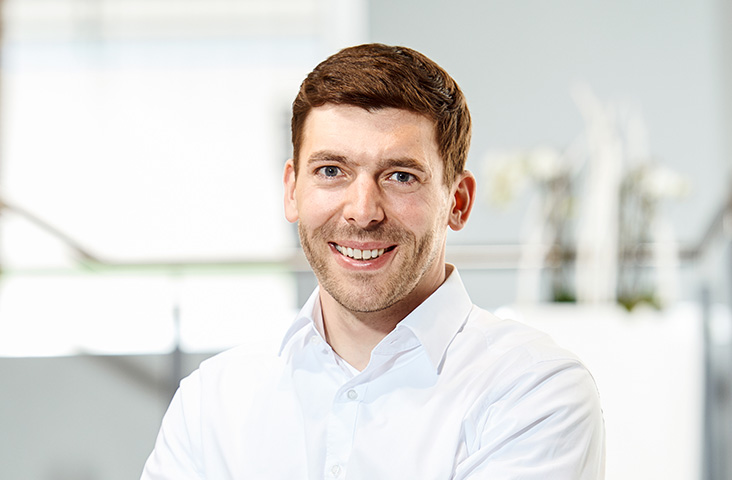 That's how your colleagues produce