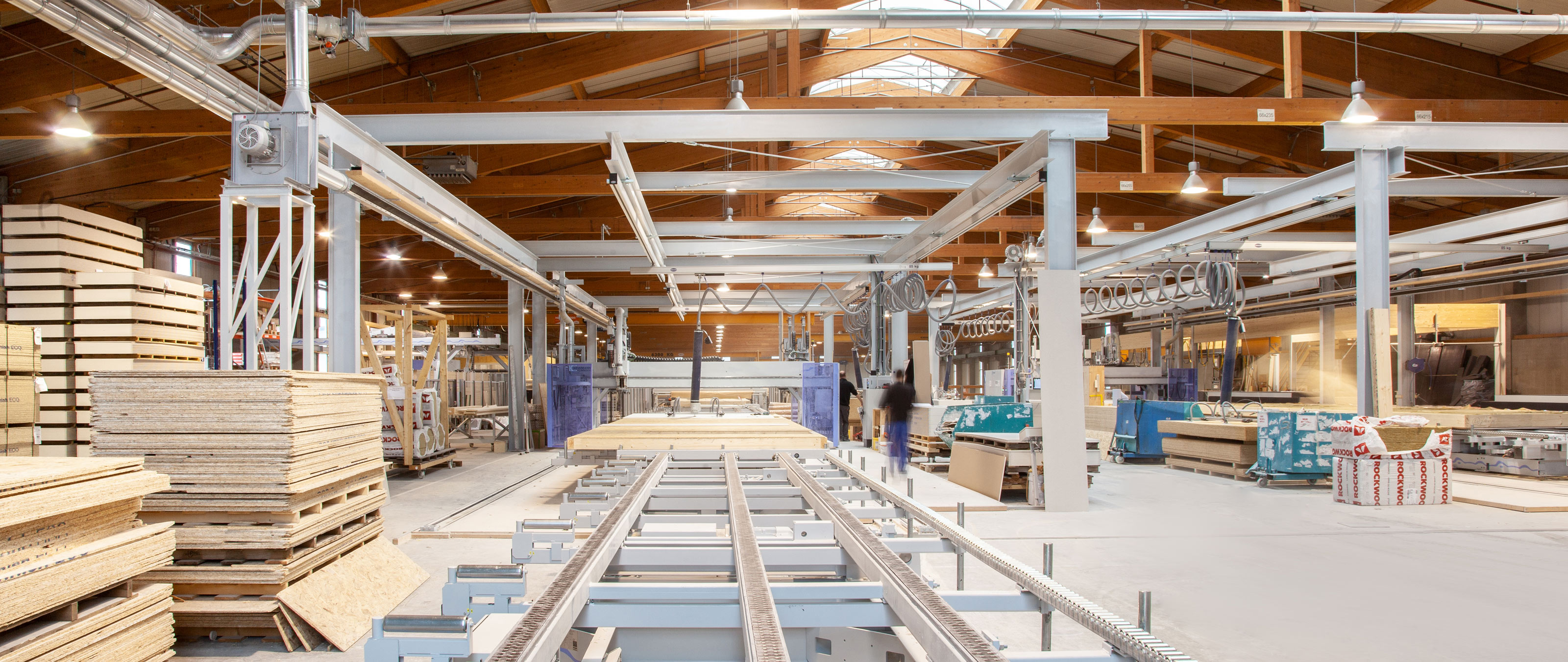 An extensive cultural change
Thanks to the new, automated wall production, Haas achieves a consistently high quality, less rework and an increased level of prefabrication.
"But now we have less rework in assembly and corresponding time savings."

Xaver Haas, Haas Fertigbau GmbH
An article of the magazine mikado, edition 10.2019. Here you can read the full article.
Flexible production for the construction of detached houses, commercial premises and residential properties.The investment in automated wall production enables Haas Fertigbau GmbH to enter new fields of business and has heralded the change from a carpentry business to an industrial company.
Increased prices for materials and craftsmen, new building regulations and increasing requirements in terms of energy standard have made construction continuously more expensive in recent years—to the extent that, despite a healthy number of orders, it is becoming more difficult to pass the increased costs on to developers.
For timber construction companies, one option for improving their market position in this tough situation is to capitalize on cost reduction potential by increasing their efficiency. This is an option that should also prove successful if the current boom in construction flattens out again due to an economic slowdown.
Xaver A. Haas, managing director of Haas Fertigbau GmbH in Falkenberg, has a good number of orders but is also confronted with price increases in the construction sector. Project cycles are also being extended, which for his company, that generates sales of EUR 200 million across three locations, means increased work effort and further additional costs.
Haas does not want to pass these cost increases on to customers—around 65 percent of whom work in construction of detached and semi-detached houses, 30 percent in commercial, industrial and residential construction, 10 percent in agricultural construction and 5 percent are carpentry businesses that they supply with components and complete construction sets. Therefore, Haas is trying to absorb the costs in all areas of the company by increasing efficiency.
The company took a particularly large step in this direction in 2018 when it automated its complete wall element production process. Xaver A. Haas: "Since then, with a core of 62 employees in two shifts, we have been producing a quantity of wall elements for which, using the old production method, we would have needed around 100 employees in a three-shift model."
Production line with height offset
This old production method was defined primarily by manual process steps. The frame work was already being partially cut to size by machine, but all other process steps were completed manually by Haas employees. This production method brought the prefabricated house manufacturer to its limits, which is why the company decided to invest in an automated WEINMANN production line.
The company would still be able to use the old hall in Falkenberg, but had to extend it and adjust some details. A height offset caused by the hillside location creates a special show effect that is used to its full advantage with a viewing platform for customers.
From there, there is a good overview of the company's new production line: a WEINMANN BEAMTEQ B-560 beam processing machine with fully automated feed, a FRAMETEQ F-700 frame work station and finally a WALLTEQ M-380 multifunction bridge with two work tables. On these tables, the first sheathing layer of the elements is attached using vacuum panel lifters and processed fully automatically.
The next item is a movable turning table. After turning, this is used to switch the elements to the next parallel series of tables, which consists of four further WEINMANN tables and a second WALLTEQ M-380.
The associated redundancy in the processing options is definitely intentional. Xaver A. Haas: "Thanks to the multiple items of equipment, at peak times we can increase the throughput without any problems and avoid bottlenecks."
1000 active employees
An additional increase in capacity is achieved by moving process steps, such as the fitting of the external insulation, to a third parallel series of tables. While internal walls go straight through the second series of tables from the turning table to the movable tilt table for transport, after processing, external walls go through the multifunction bridge—also via a table that moves laterally—to the external wall line.
At the end of this line, they are also picked up by the tilt table and transported on. The tilt table consists of a truck lifting platform that picks up the table together with the element and transports it four meters downward to the lower part of the hall. There, in addition to special tables, there is a plastering and window installation station as well as two wall slots with a total capacity of 3000 m².
In addition to the tilt table, two distribution trolleys are used to transport the elements to the different stations and for loading.
Haas currently produces 320–350 residential units at the Falkenberg site. Overall, with around 1000 employees, the company produces 650 houses, 100 commercial and industrial constructions, 400 agricultural constructions, 10 residential construction projects and around 500 B2B orders from carpentry businesses.
Reasons for the automation
If you ask Xaver A. Haas about his motives for the restructuring, the first thing he talks about is quality: "The production line guarantees us a consistently high quality with high precision, which is also noticeable in assembly—we receive corresponding feedback very quickly from our employees on the construction site. That doesn't mean that our houses used to be worse, but now we have less rework in assembly and corresponding time savings."
The second point for Haas is flexibility—understandably, his company sees the automated production process as an investment in the future in which, in addition to detached and semi-detached houses, commercial, industrial and residential construction are considered interesting growth markets.
To allow the company to serve both private and commercial customers, the production line must be able to produce a wide range of element heights up to 3.50 m. While it processes a wide range of construction tasks flexibly, in parallel, the company has heralded an extensive standardization of wall constructions, design details and processes: "This is the only way to use the effects of standardization in a market in which designs and layouts are largely customized," explains Xaver A. Haas: "In principle, we now build only unique objects."
From a design perspective, these unique objects are standardized to the extent that six timber cross-sections are generally sufficient for all construction tasks. "Exceptions are possible in individual cases, such as when fire protection needs an additional sheathing layer or a special rod or steel beam has to be integrated into the wall for static reasons. External insulation is also variable."
Difficulties finding skilled workers
Another important argument in favor of automation was the issue of the shortage of skilled workers: "On the one hand, we are blessed with a rural structure that has a lot of good people with trade qualifications; on the other hand, we have strong competitors on the labor market and it's difficult to get enough people of the right quality."
The aim of the investment was never therefore to reduce the number of personnel and produce more cost-effectively. Instead, the aim was much more to increase the efficiency of each employee in production through automation and thus increase the capacity of production with the existing core of employees. This was the only way to achieve an increase of 35 percent in wall production since the new investment, even though the number of employees has risen only slightly.
Several employees have gained further qualifications as part of this development and have moved to work preparation. This is where the largest growth is today and they are still looking for personnel in Falkenberg.
In this regard, the company can argue in their own favor that they placed particular importance on ergonomic workstations during the restructuring, that the level of illness has fallen thanks to lifting tools, comfortable processing heights etc. and that in Falkenberg, employees now work in bright, generous halls on modern machines. The automation has therefore also increased the attractiveness of Haas Fertigbau GmbH as an employer.
Increased competitiveness
Customers are also very impressed with the production culture. Private developers observe and photograph the production of their four walls from the viewing platform. The modern production method gives them the security that their house will be delivered and assembled to a high quality. This security is particularly important for investors and commercial customers, whose business existence often depends on a construction project running smoothly.
Xaver A. Haas: "A lot of people are already making telephone inquiries about industrial production because it is associated with a high level of quality assurance, digitalization of the planning processes with a high degree of price and deadline security and smooth construction site development with digital support. Investors like that and it gives us a substantial competitive advantage."
For Xaver A. Haas, competitiveness also means "that we can serve the market at all, thanks to automated production. So, on the one hand: with a production process that reflects all of our business areas, we can take more existing orders with us and move forward into new business areas, such as apartment construction. And on the other hand, we can deliver components that other businesses cannot produce. With the extra-high walls, we are innovative; we are the first company to be able to produce them on such a flexible system and even though there were some difficulties at the beginning, this was the correct strategic decision.
If I hadn't changed production over, I wouldn't have had enough people and I would have had to buy elements in at expensive prices — or produce more inefficiently with a higher level of rework. In both cases my competitiveness would suffer. This allows me to pass on some of my cost savings to my customers and partially absorb price increases through efficiency."
Extensive industrialization
To exhaust all potential here, Haas Fertigbau GmbH has industrialized extensively. A simple example of the fundamental structural change is the material flows in production: "Previously, at some point, every employee went off to fetch new material; today, we have to make sure that the employee always has the material to hand."
There have also been extensive changes in the construction system, including on the one hand the standardization of components already described and on the other hand, the development of machine-optimized details. For example, breathable membranes have been placed under the second sheathing layer, connections converted, tie rods already placed in the frame work and all components receive a number of cut-outs, notches, bore holes, trimmings and markings that make assembly easier for the employees on the construction site.
The sheathing layers, which were previously only applied at the construction site, are now fully fitted in the factory. This increase in the level of prefabrication is joined by other changes, such as the installation of ventilation and plumbing lines at the tables. In the extra-high walls for commercial construction, the fascia is now usually already integrated, whereas previously, it was a separate component: "We needed an additional lift to assemble it."
Digital construction process
In general, as a result of the restructuring, the effort involved in house construction has shifted toward the planning phase: "The entire construction process was digitalized as part of the restructuring. This means that today, we are an industrial construction company with a high level of process stability." Amongst other things, this applies to the work preparation. In addition to creating drawings, the tasks involved here now include optimizing walls, preparing machine data, nesting and synchronizing interfaces. Added to this is the data generation for the system controller for granite and for the production of multiwalls across up to three construction projects.
High qualification
A high level of qualification and perfection in these tasks is required from the employees because changes can no longer be made at the work table. "I used to have a master carpenter at the table who would look at the plan and knew the best way to implement every detail," explains Xaver A. Haas. "Errors from the work preparation were corrected almost casually. Today, the machine forces us to create a precise data record for every detail. On the other hand, this gives us the opportunity to save time and costs by standardizing the details.
If you look at it this way, the machine fits excellently into our realignment as a company because it enables us, as an efficient, competitive company, to expand the construction of detached houses further, to open up new regions and to achieve higher sales in residential and commercial construction. We can absorb peaks excellently and are ideally equipped in case of an economic slowdown."
Back to List
Haas Fertigbau GmbH
Haas is a family-owned company in the prefabricated house sector. It has been planning, producing and erecting timber and hybrid detached houses, commercial and industrial constructions as well as agricultural buildings, as a partial or complete provider in the high-end segment for more than 40 years. The company is also opening up new business areas, such as construction sets for carpentry businesses and construction companies as well as residential construction. The company has regional roots with companies in Germany, Austria and the Czech Republic.
Website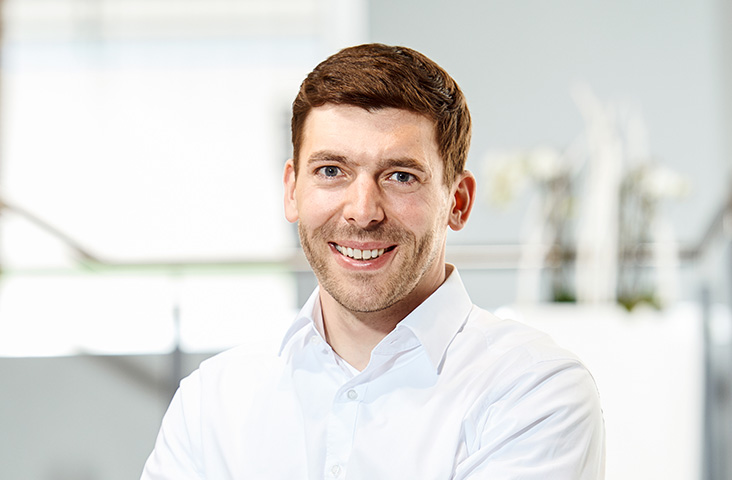 That's how your colleagues produce