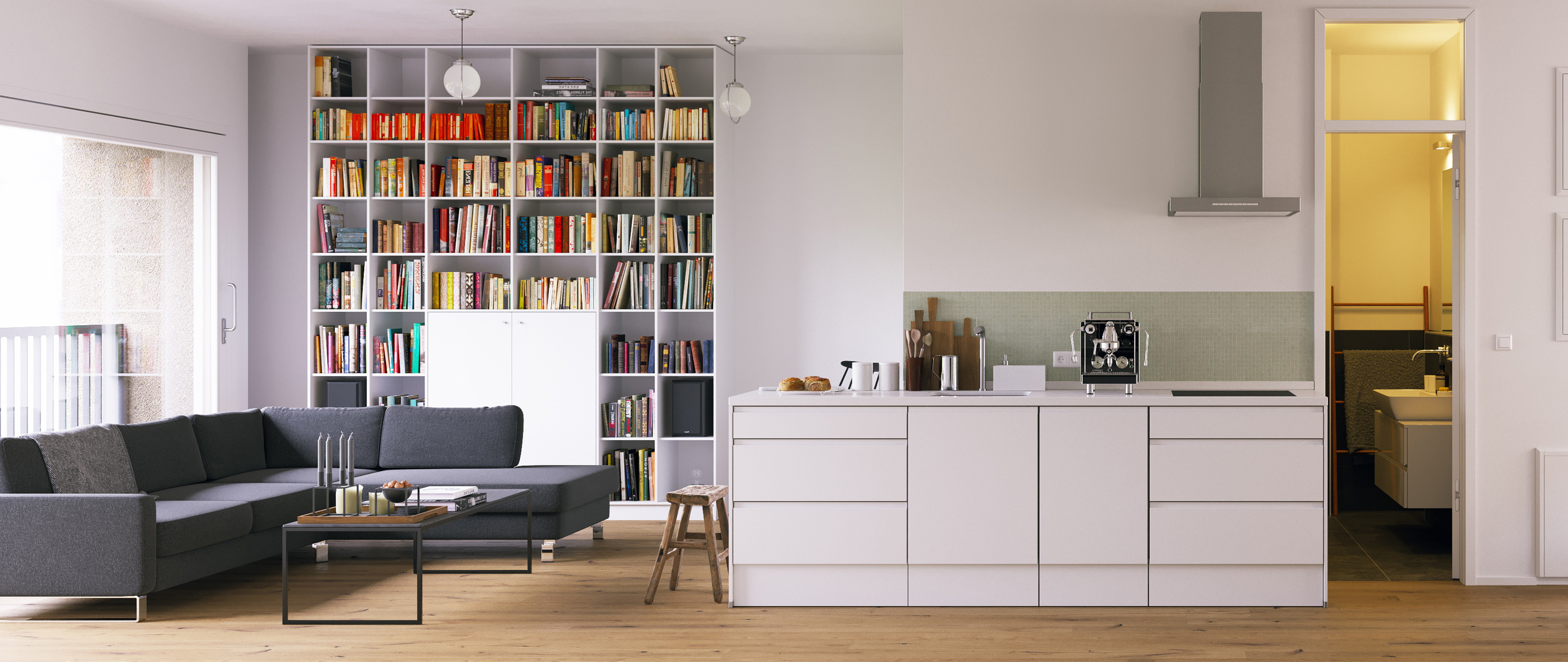 Delivering the edge over the competition — with the HOMAG KAL 330
"Furniture to last a lifetime" — that is the promise that Embru-Werke AG makes as a brand. The long-standing business is the market leader in Switzerland for school furniture and furniture that is used in hospitals, retirement homes and nursing homes. In
Competitive pressure in the furniture industry is constantly increasing. Businesses wanting to edge out ahead of the competition and impress customers must meet stringent quality requirements while keeping production both cost-effective and flexible. This is something that Otto Schnyder, Production Manager in the joinery at Embru, knows all too well: "The only way to achieve these goals is to use leading production technology and adopt work processes that are optimized on an ongoing basis." The company, which was founded in 1904, consistently lives up to this statement, working in close cooperation with HOMAG Schweiz as its technology partner.
Three gluing systems in a single machine
One example of this cooperation in action is an investment project that took place back in 2013 when Embru decided to replace an old edge banding machine used in production. A machine concept was sought for the planned replacement that would continue to increase the quality of edge processing at Embru, offer versatile processing options and guarantee efficient production sequences.
After a comprehensive analysis of the production requirements, HOMAG Schweiz recommended the KAL 330 edge banding machine. Also fitted with a PU melting unit from Balti, the KAL 330 combines three different gluing systems in one machine: The machine can produce laser edges with perfect zero joints using laserTec technology, water-tight PU edges especially for hospital furniture and solid-wood edges applied with hot-melt glue. What's more, there is no limit to the diverse range of materials that the HOMAG edge banding machine can process with a high level of precision, including solid wood, roll and strip material, as well as melamine, PVC and ABS or aluminum, acrylic and veneer edges.
Processing over 25 m/min, the KAL 330 ensures highly efficient, seamless production sequences, while also offering automatic workpiece return, extremely quick changeover times and a high level of availability thanks to minimized maintenance.
FK31 powerTrim profile trimming unit included
"When it comes to the actual edge gluing itself, Embru is well-equipped with this all-in-one solution. To achieve first-rate, individually tailored performance in the subsequent machine process—that is, profile trimming—we have integrated the brand-new FK31 powerTrim profile trimming unit into the system," says Peter Niederer, Managing Director of HOMAG (Schweiz) AG. Through its design, this unit minimizes the centrifugal forces that occur during trimming to achieve maximum precision. The HOMAG engineers achieved this feat by developing the unit completely without C axes, significantly reducing the risk of the trimming movement overshooting as a result.
What's more, the trimming tools on the FK31 powerTrim are mounted together with the detector roller on one and the same axis. The effects of this include high construction stability and secure guiding of the tracer and trimming tool. The profile trimming unit follows the workpiece in the throughfeed in a fully automatic process. Controlled via CNC, the unit moves the track to be trimmed along and electronically traces the workpiece surface to balance out any slight dimensional deviations — and all at feed speeds of up to 50 m/min. Manual adjustments are not necessary, as the tracing pressure, edge radii and all other workpiece-dependent processing parameters are transferred directly from the work preparation to the machine.
Less work, increased Quality
The new edge band application system meets all of Embru's requirements in full. "We have been using the HOMAG machine for more than two years now. In that time, we have neither found ourselves lacking certain elements nor identified any unnecessary technological features. On the contrary: The machine was optimally designed to meet our requirements," Otto Schnyder confirms. The laserTec system from HOMAG is particularly effective at ensuring better quality and barely perceptible transitions between the edges and surfaces of workpieces. "That's why we work with laser edges whenever possible, as long as it makes technical sense."
HOMAG KAL 330 — benefits at a glance:
Robust design
Scope to process all types of materials
Optimum edge quality
Increased availability thanks to maintenance-friendly machine step-up
Greater cost Efficiency thanks to minimized extraction-related costs
Low energy reguirements
Ergonmic operating functions
Optimum price/performance ratio
Significant flexibility in terms of technical equipment
Back to List