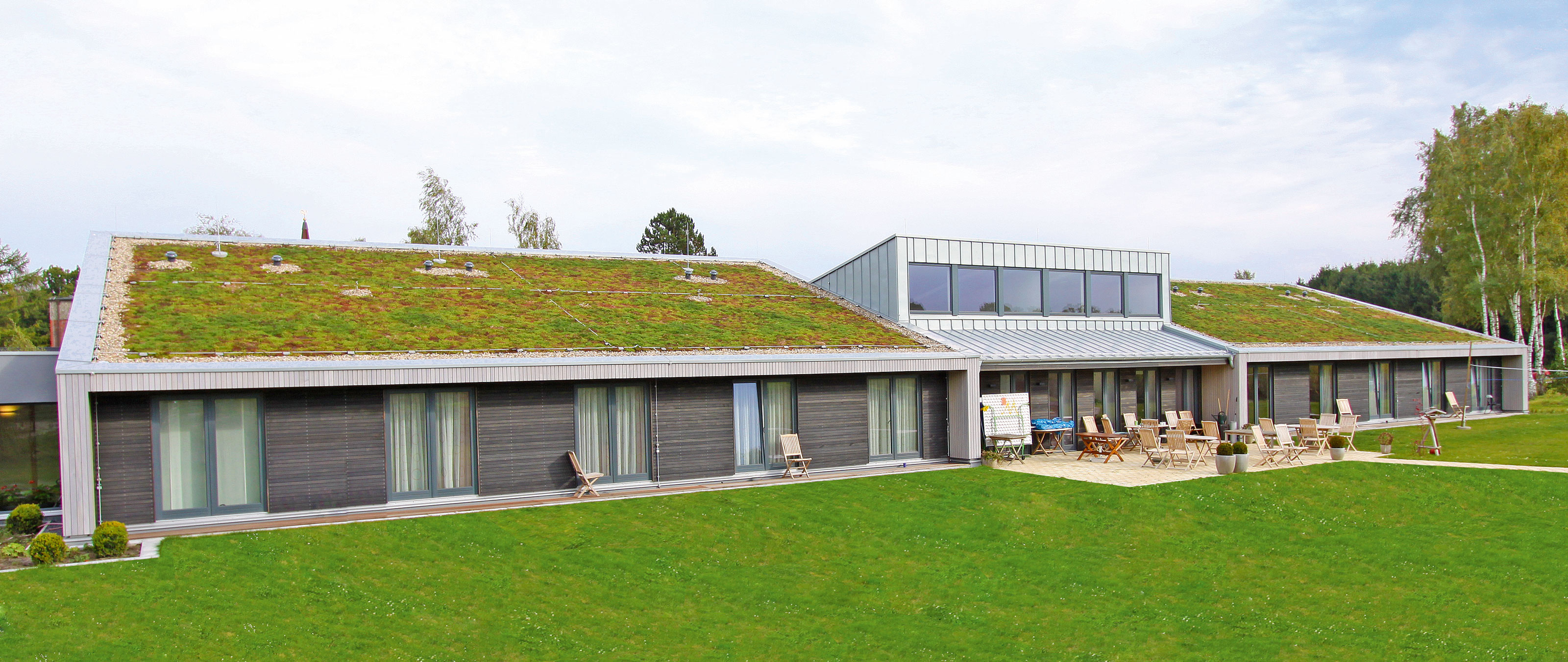 Artisanal timber construction 4.0
At Zimmerei Hamdorf, there is an excellent tradition of reinvesting a large proportion of the profits back into the company. As a result, it has expanded continuously.
"I was impressed how seamlessly the existing production units were able to be integrated into the new line."

Daniel Hamdorf, Manager Zimmerei Hamdorf
An article from the magazine mikado issue july/august 2021 Find more information here.
The last two growth phrases have seen the company automate its entire production environment and springboard into the digital future. All signs in the timber construction industry point toward growth: Only by growing can firms take advantage of the rapidly increasing volume of orders, maintain or even improve their market position and minimize the risk of rising material prices by filling their order books. Yet given the ongoing coronavirus crisis, the number of voices warning of a potential drop in orders is increasing. It currently looks like the latter will affect conventional solid timber construction most of all, but that does not mean we can throw caution to the wind. Against this backdrop, it would seem sensible to pursue modular, step-by-step growth that is based on the existing order volume and allows firms to adapt to the market situation through manageable investments. This concept draws a pinch of inspiration from visionary entrepreneurship, because it makes sense to use today's investment to lay the foundation for tomorrow's developments.
Ten times the number of units
A good example of this kind of successive growth is Zimmerei Hamdorf, located in Fahrenkrug in Schleswig-Holstein. The company focuses on residential and commercial construction and on producing timber frame elements for smaller carpentry firms. With a workforce of 46 people, it also manufactures and assembles nail plate binders, covers roofs and constructs facades. This year marks a good decade since managing director Daniel Hamdorf first reached his company's limits in terms of production capacity for timber frame elements. At that time, Zimmerei Hamdorf produced about six wooden houses a year; despite 2009 being in the middle of the financial crisis and the firm not necessarily being located in an area of the country known for timber construction, demand for timber construction products was rising strongly. To take advantage of this upswing, Hamdorf built a new production facility and invested in a WEINMANN three-table system. The company's existing WEINMANN assembly table was incorporated into the new production line as a table for frame work production, and a fifth table was added a little later. This fifth table was used as a buffer table and for special processing, such as producing facades. All things considered, the new production line increased the carpentry firm's timber construction capacity tenfold: from 6 to 60 houses a year or the equivalent in m2 elements. This enabled the Fahrenkrug-based company to pull through until around 2019 when – even though capacity had been increased to around 100 houses per year through the introduction of two-shift operation – the firm once again reached the limits of its growth. "I believe we've earned a good reputation in the region through a large number of our own projects and projects that have been realized by our timber construction customers," explained Daniel, describing the reasons behind his success. "Furthermore, with its high quality standards and good carbon footprint, timber construction is increasingly in tune with the spirit of the times, even in the north. This is why it's now a firmly established construction method for public and commercial customers."
Modular expansion
In view of this good business development, Daniel Hamdorf considered upgrading his firm's timber frame production facilities again in 2020. After consulting his employees in work preparation and production, he initially thought about automating the insulation process: "That was the first step. There was also a desire to further optimize the production processes. Our aim was to reduce the permanent two-shift operation that we had been using for three or four years back down to one shift – with the same or perhaps even higher output." With this concept in mind, Daniel entered into discussions with WEINMANN and developed a tailormade production line in consultation with project manager Jörg Groß. It consists of five work tables that – unlike in the previous version – all have multifunction bridges running over the top of them. Two of these bridges are new: A WEINMANN WALLTEQ M-310 insuFill reduces the working time in preparation and production by a good 80 percent by blowing in insulat-ing materials completely automatically, claims Daniel, while a WALLTEQ M-120 processes the sheathing at the front two work tables. Having been given new software for this purpose, the multifunction bridge of the former three-table system now does its job on the two rear tables. The existing work tables have likewise been modernized to a large extent. For example, they have been equipped with longitudinal transport systems that enable central control of the workflow in the long term (see below). The two oldest work tables have been replaced by new acquisitions but are still put to good use today in a separate floor element production line. Daniel was particularly impressed with "how seamlessly the existing production units were able to be integrated into the new line. I hadn't expected the current software to run on our aging bridge. With both this and the tables, it became abundantly clear that the modular expansion potential offered by WEINMANN machines wasn't just an empty advertising promise." The system's peripherals have been refined in order to optimize the flow of materials around the production environment too. With the exception of the insulation station, each table is now operated by a panel lifter, enabling material to be placed on four stations close by and processed by a multifunction bridge. This can be done at the same time for both the interior and exterior planking and alternately at the two assigned tables – with no long down-times for the bridge. This ability to perform several operations in parallel, combined with the greatly reduced processing times at the insulation station, explains the significantly higher output of the new line.
Looking to the future
By investing in a Granit MES production control station, Daniel Hamdorf has tapped into yet another potential way to increase his firm's capacity. "For me, Granit was initially synonymous with multiwall," explains the master carpenter when discussing the investment. "There may be other solutions, but upon closer inspection they are always fraught with problems." The advantages of multiwalls lie mainly in the faster work cycles: "If I combine three or four shorter inner walls into one multiwall, I no longer have to have separate cycles for them – instead, they progress through the production line in a single work cycle," explains WEINMANN project manager Jörg Groß. "Time is saved in beam processing too, because there is a continuous top and bottom plate for the multiwall. If a system like this works efficiently, using multiwalls can improve a production line's performance by up to 20 or 25 percent, depending on the average wall length. This is particularly evident in large projects with repeated components. This makes Granit equally of interest to companies who like to be able to monitor the profit from other modules of the software." It goes without saying that the visionary aspect plays a part too. It's about getting carpentry firms using the software now so that they can familiarize themselves with the system. If unit sales then continue to increase, firms are already familiar with the system and do not have to learn it while under pressure. This is a common line of thought that Daniel too is quite familiar with: "Our company has grown steadily over the decades, because our maxim is to reinvest a good share of our profits. My grandfather started virtually from scratch and handed over a well-equipped carpentry firm; I always consider not only the immediate future but also that of my children when making investments. And from today's perspective, the future could definitely see Zimmerei Hamdorf becoming significantly bigger still. We still have plenty of room for new facilities on our premises – and a central production control could be an interesting possibility too." Furthermore, Granit is already part of a comprehensive digitalization process that is preparing the team in Fahrenkrug for future challenges. This includes standardizing the various software solutions used in the company or networking them via interfaces in order to "ultimately create a homogeneous digital process in the company, one that every project goes through and that every employee can access. Granit will be the production interface in this process."
Artisanry 4.0
Or rather Industry 4.0? In prin-ciple, they are the same thing; but despite all the automation and digitalization, Zimmerei Hamdorf wants to remain an artisanal workshop. First and foremost, this means not offering customers standard solutions, but delivering what each individual wants. In production, this relates to the variable wall structure and the materials used, for example – for which the new line offers maximum flexibility. "Needless to say, this is important for contract production too," explains Daniel Hamdorf. "When a carpenter orders their elements from us, they give us a good share of their added value and they place a lot of trust in us. I can load the walls in the way that is optimal for them and also offer a little bit extra when it comes to service, which distinguishes us from the competition. Our goal here and in the other areas must be to make customers willing to pay a little more, because our added value in terms of individuality and safety is worth it." On the issue of safety, digitalization and production control will also make production easier to plan – with all the positive side effects that brings, such as even higher costing accuracy and precisely scheduled delivery of components, where today there is still a margin of five to six days either side of the estimated date. Until this point is reached, there are still a few kinks to be worked out in Fahrenkrug, but the first step has been taken: "After a seamless transition, we were able to quickly return to production in one-shift operation," explains Daniel. "Since then, we have been producing the same number of elements with four employees that we previously made in two shifts with two or three employees. For starters, we have reduced the cost of running the system, and using Granit will further increase our throughput as well as our savings in the near future. In the long term, the production line will give us the option of doubling our previous output in two-shift operation if demand continues to rise. Our target figure will then be 200 homes a year."
Author: Dr. Joachim Mohr

Back to List
Zimmerei Hamdorf
Zimmerei Hamdorf, located in Fahrenkrug in Schleswig-Holstein focuses on residential and commercial construction and on producing timber frame elements for smaller carpentry firms. With a workforce of 46 people, it also manufactures and assembles nail plate binders, covers roofs and constructs facades.
Website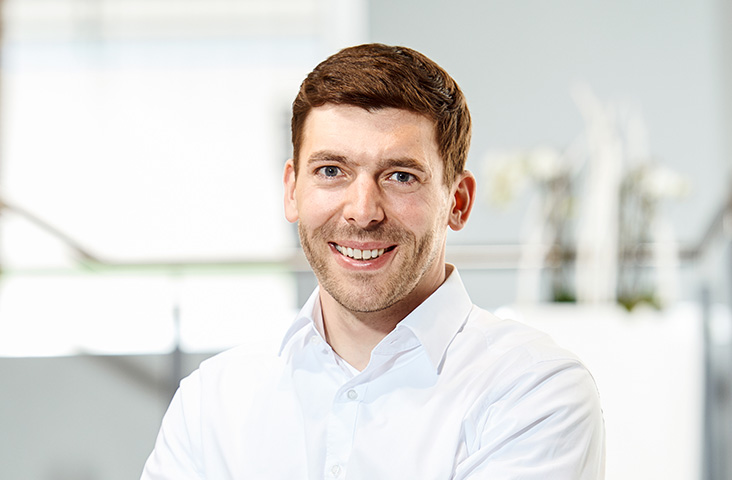 That's how your colleagues produce