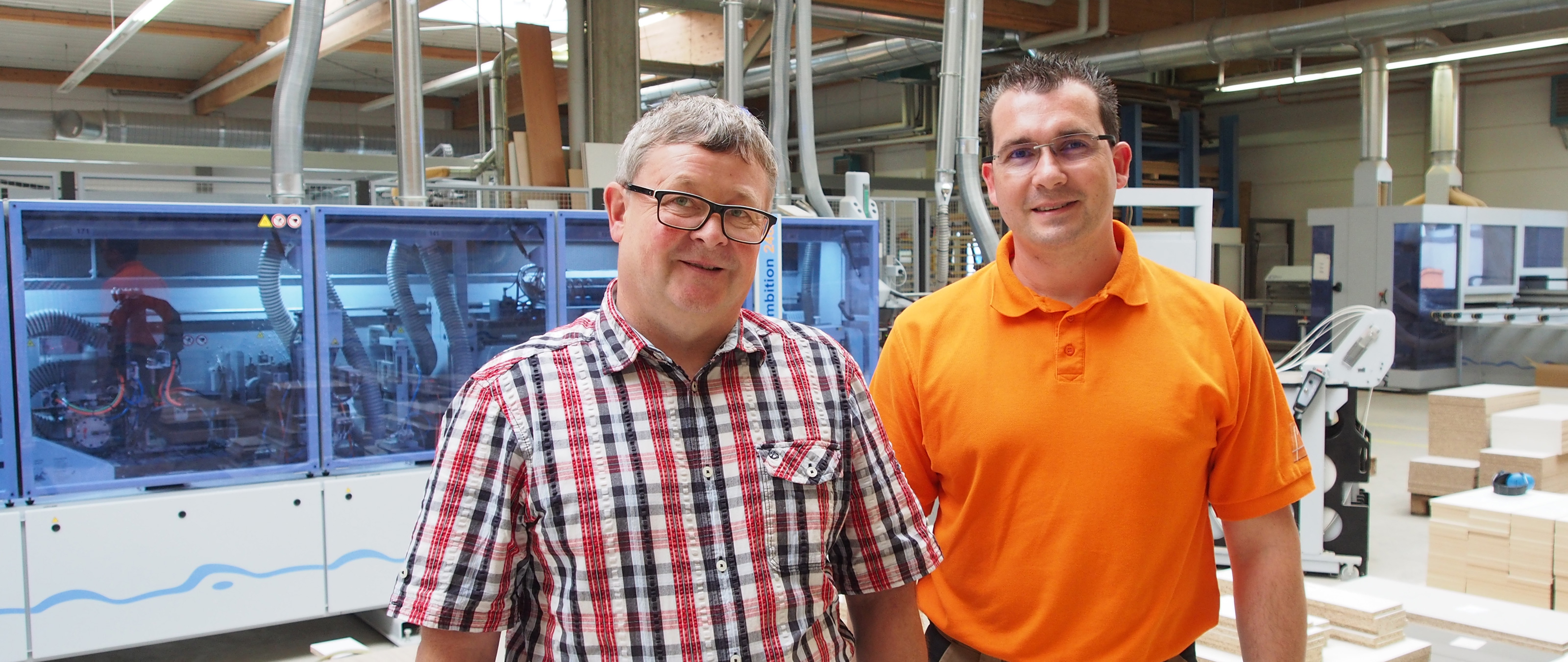 All-round edge cell at Flömö: A revolution in edge processing!
When it comes to edge processing, the interior fittings company is using automated processes for a wide variety of parts and materials, heralding a new era in quality, flexibility and efficiency.
Article from industry magazine BM, 09/2016 edition. Read the article on BM Online here
The order books at Flömö GmbH are completely full, with orders lined up right into the spring. Its key sales pillar is the demanding private customer business, but the company makes 40% of its sales from property like schools and hospitals, and even the Berlin State Library. Flömö has been based at its current location of Flöha-Falkenau (around 10 km east of Chemnitz) since the fall of 2004. Employing 46 people, it now operates over a production area of more than 3700 m². In its bright, pleasant halls, the company combines modern machine technology with a wealth of manufacturing expertise. Whether processing solid wood or veneer, making complex surface designs, applying coatings or performing simple panel processing, the highly qualified employees—including seven foremen and two wood engineering specialists—make sure that every customer requirement is met. To help them in this task, they can draw upon an integrated package of software and powerful manufacturing technology.
Understanding optimization as a permanent process
Flömö boss Jörg Möckel is someone who works with his team to constantly scrutinize existing processes, and who sees optimization as an ongoing challenge. That means the master carpenter is always on the look-out for potential improvements. "In every investment we make, our primary goal is always to improve quality and flexibility," says Möckel. He continues: "Automation can make a very significant contribution in this respect."
A new era in edge processing
It quickly becomes clear what he means when he shows me his latest investment: the new "all-round edge cell" from HOMAG. "We needed to invest in edge processing, not least because there is an increasing demand for zero-joint technology", says Möckel. "Highly sensitive surfaces like high-gloss finishes had been giving us problems too. And in terms of production capacity, we had simply reached our limit." The new system comprises an Ambition 2482 edge banding machine in combination with the TFU 521 Edition return conveyor from HOMAG Automation. This edge cell is particularly suitable for users who process a wide variety of parts and materials. As an all-rounder, it can tackle virtually any task, from furniture with an optical zero joint to high-gloss parts, solid wood edges and workpieces with different radii. The batch size 1 system is operated by one employee. Labels with barcodes are used to assign the production data and required processes clearly to each workpiece. After scanning, the processing programs are automatically loaded and executed.
Reliable and intelligent parts handling
Parts are conveyed by the TFU 521 Edition, which has a gantry that is fitted with a vacuum cross rail. This gantry performs the defined rotation of the workpieces and returns them to the machine operator. Finished workpieces can be removed or destacked automatically. This is completed by the portal cross beam with width-specific rotary function. The return conveyor is designed to handle a wide range of parts, from 240 x 80 to 1200 x 3000 mm. It does not require a separate machine control unit as it is fully integrated into the control system for the edge banding machine. For operators, this creates an ergonomic workspace and noticeably reduces physical exertion. Meanwhile, the company benefits from a handling process that protects materials and minimizes quality costs.
Photo: BM magazine/Christian Närdemann
Back to List